A month after their last outing on the label, Leonardo Gonnelli & Adne are back on Play It Say it with another fantastic EP that features a remix from top talent Seb Zito.
Gonnelli has been touring the world for ten years now, with a distinctly Florentine take on house finding favour with big wigs like Adam Beyer and Sven Vath. He's a man never far from the Beatport charts and works again here with Adne, a live outfit who bring samples, live vocals and a love of weirdness to their music. This fresh offering comes just a month after their excellent 'Raw Grooves EP' and brings more invention to the dance floor.
Quick out of the blocks is 'Is It Right', a devastatingly funky bit of punchy house with wet bass squiggles and kicking drums that cannot fail to get you moving. Nest comes the remix from Seb Zito, the Fuse associate who has a stripped back dub tech style that is one of the hottest around right now. His version is ever quicker and slicker, with busy bass down low and knocking drums designed to get the floor pumping. Sci-fi motifs flesh it out in cinematic style.
The next original is 'Girl', another perfectly reduced track with slithering hi-hats and freaky vocal filters all tethered to a rubbery, supple groove that takes you deep into the night. Last of all, the brilliant 'Maaya' is minimal tech house with warped bass and tribal vocal chants. It's a spellbinding tune that brims with restless energy and is perfect dancing material.
These are four more exquisitely executed dance floor bombs.
"Maaya" is out on July 26th, via Play It Say It.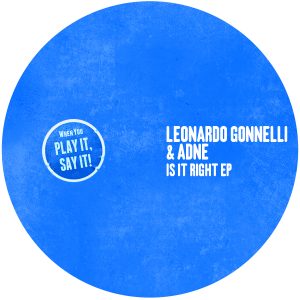 Artist: Leonardo Gonnelli & Adne
Title: Is It Right
Label: Play It Say It
Release Date: 2019-07-26
– jbravo
Juany Bravo
Senior Editor
jbravo@musicis4lovers.com

Comments
comments