If there's one good thing to come out of the Covid Lockdown it's some fruitful musical collaborations and a little more time for extra projects that might never have materialised. Jimpster and Matt Masters have been good friends and musical allies for almost 20 years now, since Matt started helping out at the label back in 2003. The duo aren't exactly strangers in the studio with Jimpster lending his production ear to Matt's Never Ending Nights LP which dropped last year, but this is the first time they've joined forces for a full release. We love the way each producer has bought elements of their own sounds to the three tracks, bringing something fresh to the table and being pulled outside their comfort zones in the process.
We had the wonderful chance of connecting with Matt Masters and seeing the set-up in which he works to create his magic, as well as ask him a few questions about the making of this amazing new release.
---
1. Adam A7 Monitors & Sub8 Subwoofer
I used to own a pair of KRK ROKIT RP8 G2 monitor speakers. They were very bass heavy in my studio. When working with Jamie finishing my album, I got used to the sound of his A7's and Sub8. The sound is really clean and crisp and you can hear all of the details. The A7's alone are good so with the sub I don't have the volume up too loud in my current setup. It's just to get the subtle low frequencies. The low end is so controlled compared to the RP8's in my opinion. It has saved me so much time when mixing tracks to make sure the levels and frequencies all sit nicely together.
2. Korg Minilogue synthesizer
I don't have many hardware synthesisers (only 3 in fact) and bought the Minilogue a few years back. It's tiny but has some huge sounds. I love it and most of my tracks since I bought it use something from there. It could be some white noise effects with the onboard delays or a nice synth or bass sound. I like to play around with it and record everything and come back to the recording and chop up the bits I want to use. I thoroughly recommend it. So much fun!
3. Korg IMS-20
I have quite an old iPad but it still manages to cope with the various music apps I have on it. I have the Korg IMS-20, Animoog, Additive Synth, Synthstation, Filtatron and various other apps on there. I like the hands on approach with the touchscreen as jamming away on it for ideas. A lot of the sounds on these plugins are not always strong enough for the final tracks in my opinion but it's great for laying down some ideas to work on later on my desktop computer.
4. Novation Launchpad Pro
I like the note feature on here that highlights the pads for the key/ scale you are working on. It's a different way of getting notes and loops down other than using the the conventional piano keys. I use it to trigger either hardware or software synths.
5. Various desktop plug ins
I do a lot of my production on my main computer so having lots of plugins can be good, and sometimes bad, for my workflows. I know where to go to for particular sounds and they can be available quickly rather than having to plug outboard gear in and get things setup. The new subscription services make some of the more expensive ones available to a bigger audience which I think is great for producers. Some of my favourites include Slate digital, Fab Filter, Arturia and Waves.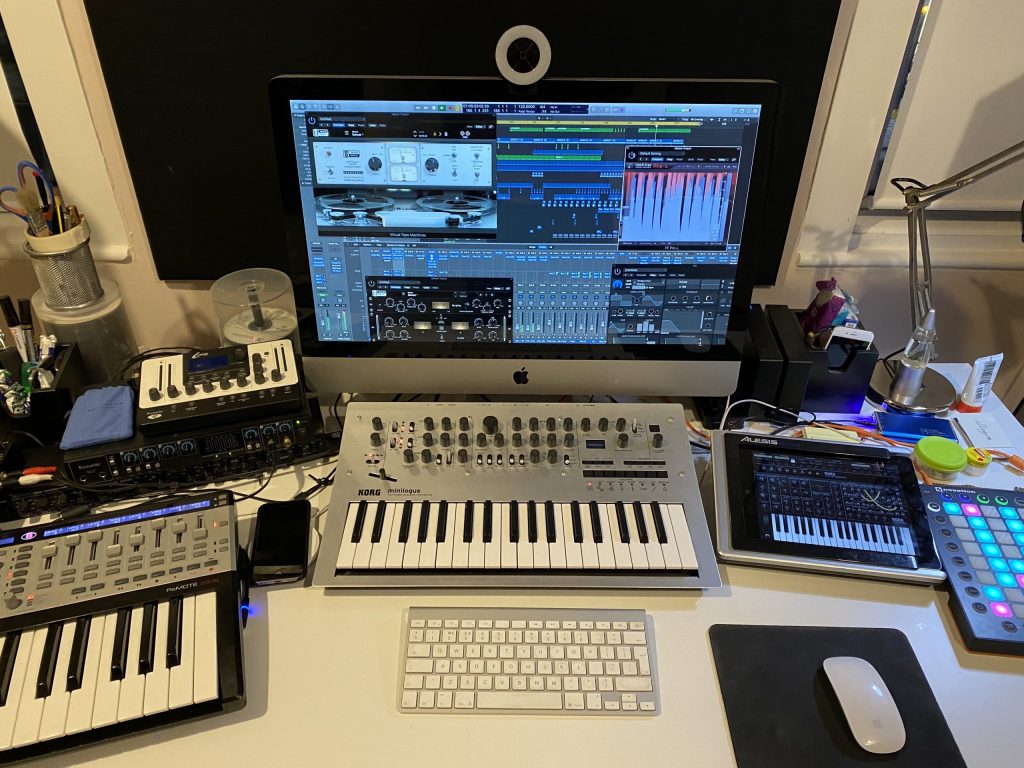 Interview with Matt Masters
1.) Thanks so much for talking to us Matt! So you've been working over there for Freerange for quite some time. How did this start? What do you do for the label?
I started working for the label in 2003. I had finished at Uni in London and was working as a waiter in a restaurant at the time. I was putting on parties and DJing around London at places like Turnmills, The Cross, The Key, The End etc. I wanted to get into the other side of DJing and start to learn about the industry from a label point of view. I was going through various vinyl's I had and contacted Freerange to see if they needed any help with anything as work experience. I went to the office in Hackney Wick at the time and met Tom and Jamie (Jimpster). We had a really good chat and I started to work part time helping out with picking and packing records for promos and collating feedback via our fax machine. When that first reply from Laurent Garnier came through on fax, I was so excited! Since then I have played various roles at the label including digital distribution, promotion and marketing. At the moment I focus on the licensing but we all help out with a bit of everything, as we are a small independent label.
2.) Tell us three things we should know about Matt Masters?
I have a bachelor of science degree in Musical Instrument Technology. I was on the Crystal Maze TV show (kids Christmas special) in 1994 if you want to have a laugh. I am about to become a dad in Feb 2021. Big love to my wife Becs x
3.) How long have you been working in music? What was the first track you produced?
I started producing back in school when I was 14. We had an unused studio and me and some of the other kids on the music GCSE course took all of the junk out of it and made it into a working studio again. Was good fun. After I did my A levels I stopped producing for a while. My Uni course was a science degree in music so was focused on acoustics of sound, building mixing desks, writing music computer programs so I lost a bit of the flow for a while. It wasn't until I started at Freerange that my spark reignited. I used to sit behind Jamie when I first started and watch him produce in the office as it was an office/ studio at the time. I asked Tom and Jamie if I could work on a remix for them so I worked on a Freerange track by Brett Johnson called WeR1 (https://www.traxsource.com/track/29837/wer1-matt–masters–remix). This came out in March 2007 but my first solo EP was on a UK label called Urbantorque in November 2007. Since then I have been lucky enough to work on lots of solo projects including releasing my album last year but also collaborations with Mr Cenzo (MidiDropMusic), Dave Pezzner (Arithmetics) and now Jimpster.
4.) Who are your musical influences?
I have a bit of a mixed bag of influences. When I was growing up I loved so many different types of music from the Brit Pop bands like Blur, Oasis, Supergrass, Sterophonics, Ocean Colour Scene to Prodigy and Chemical Brothers to Guns and Roses. I then started getting into my garage and speed garage which then lead me into house. The first parties I used to go to I watched DJ's like Carl Cox at Ultimate Bass in Charing Cross and CJ Mackintosh at Turnmills. I also lived in Ibiza for a summer, so the DJ's I got to see there on a daily basis for 6 months were incredible. My mum loves her Frank Sinatra, Dean Martin and similar artists from that era too so I was brought up with a lot of that. As I say a real mixed bag!
5.) You and Jimpster go back a long way. That's a pretty good mentor to have. What would you say you have learnt from working with the big man?
Jamie has taught me a lot over the years and I am very fortunate to have met him and Tom and be part of the Freerange family. From a production point of view, Jamie always tells me less is more and it's something I always come back to if I am listening back to my tracks with fresh ears.
6.) How would you describe your production style Matt? Do you have a creative process that you follow?
My style is predominately deep house however I don't think I have a definitive sound. A few of the tracks from the album went down different routes but when I write an EP, it's usually aimed at being played in a club. When writing music I don't follow a particular method. Sometimes I could start with a synth pad, sometimes a sample, sometimes a beat or bassline. Recently I recorded the extractor fan in my bathroom as it has some very strange, syncopated noises in it so I have started to work on some chords that follow the same syncopated rhythm. Will see how that turns out!
7.) What can you tell us about the 'Dub Come Down EP'? What parts did you both play in the production of this EP?
The EP started on with a few basic ideas that I took to Jamie. As some were more developed than others, we decided to work on that as a collaboration as we agreed they all needed a lot of work to get them over the line. Jamie and I worked on all of the tracks over Zoom calls and sharing screens and audio. It took a while to get our heads around this method of working but we got there in the end. We went back and forth during the sessions working on the different elements and building the tracks up. Sometimes I would take some things away to work on and sometimes Jamie would work on bits ahead of the next session too. We are happy how various elements of our production sounds have jelled together for this release to deliver something different to our usual solo work.
8.) We are premiering the title track! How would you describe this track for our readers?
The title track from the EP "Dub Come Down" started as a loop from our mutual friend Nick Cohen. He was kind enough to send me some live bass riffs he'd played alongside some rough beats I had sent him and it all kicked off from there. It's a percussive dubbed out house track with the live bass loop played throughout. We use big sweeping Juno chords and a raw mutating analogue synth line to help drive the energy throughout the track. So in answer to your question, it's a raw deep house driving banger!
9.) What's up next for Matt Masters? Anymore collabs on the horizon?
I am currently working on some tracks with Milton Jackson. We have two nearly over the line and working on the third at the moment. We hope this will be out early next year. I hope to work with Jamie again in the future but it's always a time thing. He is a very busy man as you can imagine but I hope we can do something again at some point.
10.) 2020 is almost over thank heavens. What's your mantra for 2021?
Amen to that. What a year! I have some notes on my phone that I read every day to try and bring positive energy to my wife, family, friends and those people that need help who I don't necessarily know. Since I started doing it a few years back, my life has changed for the better considerably. I won't go into the details of what's in the notes but I believe if you give out positive vibes and energy then you will receive them back. I will continue to do so for 2021. Give it a try!
-Matt Masters
Turn it up & enjoy!

Comments
comments