For some people the desire to make music can fall short of their expectations. Brimming with creative energy and talent, their art is sadly unseen by much of the globe.

This was partly the reality of Blanka Mazimela, until a fateful meeting with celebrated South African artist Ryan Murgatroyd. With Ryan as his mentor, Blanka has quickly risen through the ranks and is now signed to Get Physical and Kunye as a solo artist and All Day I Dream and Bantwanas Kollectiv (as part of electronic group, Bantwanas).

A gifted producer and live performer, Blanka's unique fusion of organic instrumentation and vocals making waves both locally and further afield. As content head for Soul Candi's Institute of Music as well as the Head of Musical Composition, Blanka is able to impart his knowledge on the next generation.

Ahead of his new release, 'Gengesi EP' featuring the talented Zimbabwe-born UK-based singer Oluhle on Shimza's new label, Kunye, out on December 11th, we catch up with Blanka to chat about South African life, music and the future.

Hi Blanka, good to meet you. Probably a question you're sick of answering: How has COVID affected your 2020? Indeed, did the virus even really register in a country with Dengue Fever, West Nile Virus, Rift Valley Fever and 7.7 Million people living with AIDS?

It's currently summer down in South Africa. The economy has been highly affected by COVID. The entertainment industry amongst the most has been affected quite a lot, it has been hard to really go out and have fun.

With events becoming one of the high spreaders of the virus going out has not been easy. The virus was well contained when the country placed measures of an early lockdown to curb the spread. This is one of the reasons for the low infection rates.

Let's kick off with some backstory… Can we start with Bantwanas? Firstly, who are they and how did you get together?

Bantwanas is a rural supergroup which was a collective decision with Jarrad, Ryan and I to bring what we were doing into studio fusing organic African elements with electronic music to a stage. The group is an umbrella project but consists of 9 regular rotating and performing members currently.

The group is lead by myself and I put most of the members together as I recorded most of my Blanka Mazimela work with them. It was just natural to include them in the process.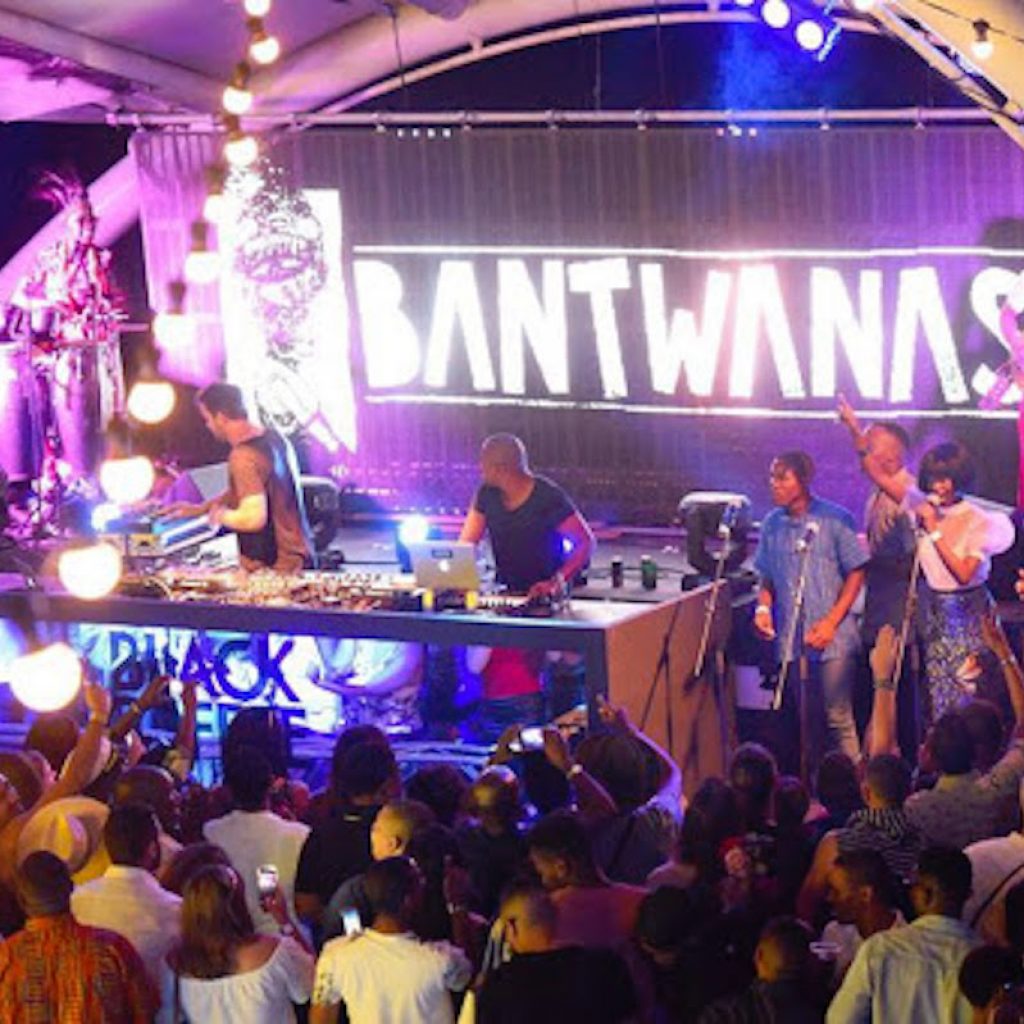 You have an imprint for the group – Bantwanas Kollectiv – Was this a conscious choice to better control your content or was the South African scene not supporting the music?
Bantwanas is a string of musicians that really believe in making pure music first before it becomes a genre. The genres fall into place after the production process is complete.

Part of my ethos first is to make music before putting it into a genre. I believe the music brings out all of the emotional quality of anything, it places the person in a specific space. My music and the music we make with Bantwanas is intertwined all the time. This is what makes the music very close.
Talking of 'the scene', South Africa has a history of amazing deep house. Who were your influences to make music?
I have quite a long list of influential DJs and Producers. It really starts with Charles Webster, his organic instrumentation made me fall in love with deep house music. His remix of Doctor Rocket's 'Cafe de Flore' in 2000 was really a gamechanger for me. Closely followed by Dennis Ferrer & Jerome Sydenham's 'Timbuktu' from 2004, this is the one song that really made me fall in love with what we know as Afrotech or Afrohouse. Fusing these two has always been my centre.
Can you tell us about some of the more localised scenes in SA such as kwaito, mbube and 45bpm. Do you actively work these styles into your music or try to avoid them?
I work with music that speaks to the soul and tells real African stories about the variety of cultures that we have in South Africa. These cultures are really a big deal for me and trying to get people to know about these stories is what I try to incorporate in my music.

My philosophy is really simple. It has to be real in order for you to believe it. I don't want to tell stories that are not real. Vocals like Mbube speak about real African stories. Genres like Kwaito are still evident with the evolution of the new Genre called Amapiano which is highly influenced by the Kwaito culture, and the uniqueness of township life storytelling. My process is about telling stories through music and all of the music that I make is really trying to get these stories across.
Let's move on to meeting Ryan. Was it as fateful as it sounds or had life conspired to you both meeting at that time?
Meeting with Ryan was fate! He's still my mentor and I still consult with him on both the Music Educational front as I produce educational content for the schools that I run in South Africa. He'll always be a prominent figure in my career.
We wanted to touch on Apartheid as it was such a huge part of South African life. After it was repealed in 1991, and the country began to heal did you notice the undercurrent of racism continue? Has 30 years of change taken effect?
Racism is still a real thing in South Africa. Having to live and experience it on a daily basis. Being black is often associated with danger and fear. I've had various cases but one that really sticks out is my drummer nearly being thrown out of a party purely because he was black and he didn't quite fit in with the rest of the party-goers. Luckily when people found out he was with me he was then treated differently!

In the 90s things were really bad. Segregation was real and we were not allowed in certain spaces in the country. This made it very hard to integrate cultures and to really learn from each other. Today people move freely from Khayelitsha to Camps Bay. Even though this still exists today, it is much better than it was.

In recent years, global media has begun to speak more openly about racism and sexism in the music industry. It wouldn't surprise us to know you'd fallen foul of this along the way, so in an effort to be more positive what can we all do to be better?
With regards to racism, we can really start with acknowledging that it exists. Then we can start by doing what's right and providing a true reflection of the cultures that we borrow from. i.e you can't speak and take influence from Africa but not reflect that on the dance floor.

DJs and producers that make this music need to reflect on these lineups. The music down here is raw and authentic and therefore will always have a place in the world. Sexism is something that is very close to my heart. We need to ensure that we are fair at all times to all sexes.
Alright, let's shift gears again and focus on your new EP, 'Gengesi' . The title track features tribal rhythms, marimbas and the wonderful vocals of Oluhle. Talk us through the lifecycle of this track, how did you hook up with Oluhle and did you write the music before the vocals or as a result of them?
It's really quite simple. My manager (Jarred) heard the song and felt that Oluhle would really be the best fit for the vocal. With Oluhle being based in the UK and myself in SA it was really easy. We linked up via Facebook. I gave her creative freedom to really write whatever she likes on the song. I think this allowed her to really be authentic with her vocals. These vocals make it really smooth when playing.
Has being exposed to more European sounds as part of Get Physical opened your musical palette?
I've always had the European appeal and approach to my music. My music has always been influenced by Europe so much that it was only time for me to release with a label that side. I've been told quite a number of times that I have a taste for finer things hence my palette.
We wanted to finish on your achievements in Academia. As Head of Department for Soul Candi's Institute of Music, you're right on the cutting edge of dance music and able to mentor and guide the next generation of artists. Tell us about the institute and how your role has developed.
I've always been a person that strives to share the knowledge. Having parents in the educational sector was also an influence. Having guys that are entering the scene with the proper education has also been one of my strongest points.
This is what led me to the Head Of Department role at the Soul Candi Institute of Music / Boston. Overseeing thousands of learners through the years makes my job something that I truly enjoy. My role is simple. I ensure that our students get the best quality of education. This education is then transferred into releases and careers. Seeing people make something of themselves is one of my motivations.

One of the first things we tell new artists is to keep their day job because they'll need some to fall back on if everything goes wrong (like it has this year). What are some of the best pieces of advice you've been given over the years and constantly, some of the worst?
Best advice: Do it with passion. Be sincere with yourself before going out there. Worst advice?! Ha… Everyone in the industry is authentic!
Well, it's been really great to chat. We all wish you the very best with the upcoming release on December 11th. Is there anything you wanted to add?
Thank you for the interview. Shout out to Oluhle for the beautiful vocals. Shout out to my people in Dutywa. This release is for you.
Comments
comments