The most essential festival in the North of England is returning to the site of one of its greatest ever editions in 2019: this year's Mint Festival again takes place at RAF Church Fenton at Leeds East Airport and promises the same out-of-this world stage design and huge line up featuring the likes of Patrick Topping, Gorgon City, Enzo Siragusa, Claptone and Richy Ahmed. On top of this is the mouthwatering news that world renowned party starters Elrow and cult underground crew FUSE will host their own arenas. It all takes place on Saturday 28th September.
All musical bases are covered at Mint, from house to garage, techno to disco, all on hugely impressive stages and with immersive production that takes you into the next dimension. That will never be more true than on the new Elrow stage. The globe-trotting production powerhouse bring a carnival atmosphere and plenty of crazy colours and themes to everything they do, and this will be no different: prepare to be amazed by them, as well as headliner MK and two special guests and more to be announced.
Last year, The Bunker was a huge talking point and has already become an iconic place to dance: it is a raw, throwback space made from huge steel shipping containers that echo the illegal rave days of the nineties. A killer sound system delivers the music as intended and place you right in the centre of an atmospheric cauldron that you will never forget. That music comes from Mint favourites Patrick Topping, Richy Ahmed, Darius Syrossian and more, so you know what to expect.
Hosting Area 51 will be FUSE, the now internationally recognised brand that is home to the slickest stripped back dub tech artists in the world. Key protagonists like founder Enzo Siragusa and label artists Rich Nxt, Rossko, Seb Zito and Archie Hamilton will be joined by a huge special guest alongside Apollonia and Seth Troxler for a truly tasteful underground session.
Elsewhere, Terminal by Night will be a place to catch the freshest house from chart toppers Gorgon City, mystery man Claptone and Defected's Sam Divine.
In this article, we've listed 5 things you didn't know about RAF Church Fenton, Leeds' former airport where the festival will take place.
Air Defence Aircraft Station
Royal Air Force Church Fenton  or RAF Church Fenton was established back in 1937 and from the beginning of World War II until the 1960s it was a station for air defence aircrafts. Today, it has been renamed as Leeds East Airport and is operating as a civilian airfield.
Home to Yorkshire Universities Air Squardon
This is where YUAS would conduct their flying training in the Grob Tutor Aircraft. In 2013, YUAS ceased operations and the airfield closed.
Leeds East Airport
In 2014, the airfield was sold to Makins Enterprises who renamed the field as 'Leeds East Airport' with the slogan 'Yorkshire's newest aviation destination'. They are aiming at the business jet market and opening a new flying school.
        ITV drama Victoria & Mint Festival
In 2017, the second season of the ITV drama Victoria was shot at the airfield ..
Indeed, the most essential festival of the North of England – Mint Festival is taking place at RAF Church Fenton. Scroll down to find out more about this year's line-up, how to buy tickets etc
—————————————————————————————————-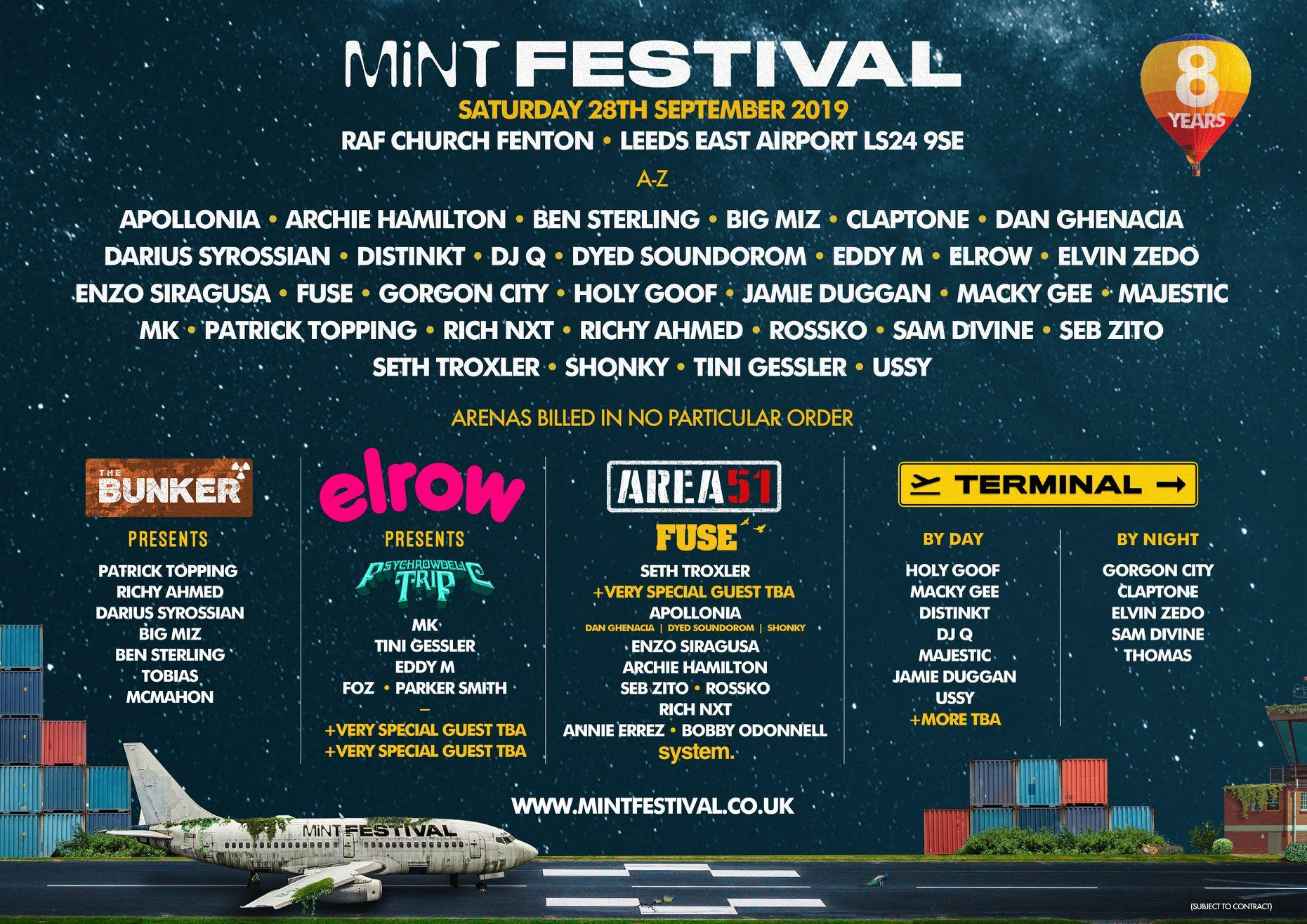 Mint Festival 2019
Saturday 28th September
RAF Church Fenton (Leeds East Airport) ️
— Ticket Info —
2019 Lineup
— Arena Breakdown —
The Bunker Presents:
Patrick Topping
Richy Ahmed
Darius Syrossian
Big Miz
Ben Sterling
Tobias
Mcmahon
Elrow Presents Psychrowdelic Trip:
MK
Tini Gessler
Eddy M
Foz – Parker Smith
+ x2 Very Special Guests TBA
Area 51 Hosted by Fuse x System:
Special Guest TBA – Seth Troxler
Apollonia
Enzo Siragusa
Archie Hamilton
Seb Zito
Rossko
Rich NxT
Annie Errez
Bobby Odonnell
Terminal / By Day and By Night:
By Day:
Holy Goof
Macky Gee
Distinkt
DJ Q
Majestic
Jamie Duggan
Ussy
+ More TBA
By Night:
Gorgon City
Claptone
Elvin Zedo
Sam Divine
Comments
comments