Towards the end of June the label will release the 'Space Funk EP' by label head K.Mo, featuring man of the moment Byron The Aquarius. The deep house groove of 'Space Funk' has Byron on keys, laying down his trademark synth and bassline stabs courtesy of his Prophet 6. The warm and soulful vibes sit alongside driving drum patterns and additional live percussion by Mauskovic Dance Band member Chris Bruining. The B side opens with 'Moon Light Shuffle', delivering a captivating bass line with synth lead melodies accenting the organic solo to die for from the super talented Tim Jules. Close 'Inner Soul' is full of sparkle with heady pads, luscious piano chords again from Tim Jules, elevating this very credible record to a whole other level.
Artist: K.Mo
Title: Moon Light Shuffle
Label: Wayout Records
Release Date: 2021-06-25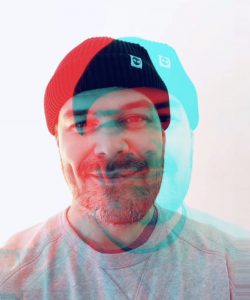 Interview with K.Mo
Thanks for talking to us today James. Tell us where you are from and where you're based now? I was born and bred in North Kent, not a million miles from London. When I was 18, I moved to Central London and never went back. I lived in a few areas over the years. Brixton, Clapham, Ladbroke Grove, and others until eventually moved away. Now days I live in South Manchester with my family, we've been here 16 years or so. 
What's the music scene like where you are pre covid? Manchester has always had a deep and rich musical history, particularly in the dance music scene, so there are plenty of live & club nights going on week in week out. Hopefully, this will all pick and continue where it left off soon. 
Have you been keeping busy with music this last year? Yes, very much so. Pretty much been working solidly during this last year with being at home a lot. I also started a new label and been working on new music for other similar labels. I did something for Release Sustain and I've got a new release coming soon for Tokyo based Unknown Season, who already have a great roster of artists, like Jimpster, Rick Wade, Alton Miller amongst others.
You've been Djing since the 90s. Where were your first gigs? How did it start for you? It started like most aspiring DJ's, having a home set up in my early teens, listening to my favourite Kiss 100fm radio shows and buying music off the back of them. My brother went to Uni in Wales, so occasionally I used to get the train over and play house parties, I was probably 17 at the time so around '94.Not long after I managed to get local gigs in London, I got friendly with one of the resident DJs at The Notting Hill Arts Club and he invited me down to play at a small venue called Cherry Jam, which was just off Westbourne Park Road between Bayswater and Notting Hill, owned by Ben Watt from Everything But The Girl, I also played at Nuphonic records Bridge & Tunnel bar in Shoreditch around the same time. Beyond these I went on to play other parties in and out of London and overseas. 
Who were the DJs you were listening to at that time? It was very London centric back then for me, I can count them on my two hands, not like these days where everyone thinks they're a DJ.  So, I'm talking the key players here for me…. Andrew Weatherall, Paul Trouble Anderson, Colin Dale, Colin Faver, Harvey, Danny Rampling, Gilles Peterson, Patrick Forge, Norman Jay, Roy the Roach, Phil Asher, Fabio Paras, Terry Farley & the Boys Own crew, Flying records DJs, Jo Mills, Lofty, Rocky, Diesel, Ashley Beedle, and the like. So yeah, a good spread of styles and musical influences here. I got introduced to hearing people like Louie Vega, Tony Humphries & other NY or international DJs whist attending Paul Trouble Anderson's Loft parties in Camden or going to the MOS in the early days. 
Your production career came later, right? What was your first release? Correct, in 2007 to be precise. I started to learn production when my son was incredibly young as I sort of concluded I'll be staying in a bit more. I had a couple producer friends help me out a bit which was good. My first release was for Amsterdam's Delsin records sister label, Ann Aimee. I was lucky looking back as I'd only been producing a matter of months, and the opportunity came around and they signed a two EP deal from me. 
You've featured on releases for Dan Curtin, DJ Spider, Steve Bug, Brendon Moeller, I-Robots, Sasse, Steve Lawler, Deetron. What did you work on with Deetron? That's a very recent project as James Kumo, which I did for Steve Lawler and one of his labels. I sent Steve some music a while back which he liked, he then wanted to boost the release so asked Deetron and Heron to remix my original track, called "Paradise".  It was supposed to come out last summer but covid delayed that, so it came out in early May 2021. I have two production alias, James Kumo and K•Mo. My James Kumo work is techier whereas my K•Mo material is deeper side of house. 
You are soon to release the Space Funk EP on Way Out Records. Give us the lowdown on the label? I started Wayout in early 2020, just before Covid happened and have spent most of my spare time building it up, producing my own new music, collaborating, or inviting other artists on the label, commissioning remixes etc. So far, I've had Byron the Aquarius, Harri and Max aka Manakinz, Mahal, Toby Tobias, Yard One and Larry Quest all get involved so far. I'm looking to work with specific producers / artists / musicians with a view of working with them again, more of a collective, opposed to churning out release after release and never working with them again.
Does the label have a music policy? Yes, ish…broadly speaking its musical direction is deep, soulful, electronic house music. So, if that's your bag, that's what I'm looking for. 
Can you high light your biggest release on the label? That's a tough one. They're all good…check them out and judge for yourself. 🙂
You've got Byron the Aquarius featuring on this EP? How did you manage to get him onboard?  What is it that draws you to this artist/ producer? He's a quality well respected musician and producer so it wasn't hard to want him involved. Man, that guy can jam on his synths, alright! I was keen to start working with live musicians this year, so it worked out on this release, I just reached out to him on the project and glad he said yes. 
Talk us through the Space Funk EP a little? It's a heavy, deep house 3 tracker, plenty of funk and a lot of groove. 
You've also got Tim Jules working the keys as well as BTA right? Yeah, that's right, Tim has worked with the likes of Dam Swindle, I dug his sounds so he's now my go to man for laying down some vibes on my tunes. 
We will be premiering 'Moon Light Shuffle'. What's the story on this track? I'm pleased with the result of this one. I took it so far and decided it would be cool to have some keys played over it, so I sent it to Tim to listen to, he liked it so I asked him if he could lay down some organ solos over it, so he went for it, and I think it turned out well.
I think the two main elements that make it are the bassline & groove, and the organ solo which Tim played to great effect. 
When you make a track, do you have a production process that you follow? Yes. Firstly, I'll try and go into the studio with an idea of what I want to do, though that's not always the case. I tend to always start with the drums, which will obviously be the foundation of the production in the music I make. I'll build those up to a certain point. Once that's in a good starting place I'll move onto the baselines, trying to find that groove. I'll then move over to additional elements like chords, melodies, pads and so on. I'm not that structured, I work quite fluidly, I will begin to work on the arrangement and even look at the mix as I go. Adding efx and processes as I go. Once the track is done, I'll go over it with a fine-tooth comb on the mix down front, until I'm happy. 
What is your most favourite piece of studio kit that you used on this EP? To be honest I produce the majority these days within the box, primarily within Logic.
How do you feel about Spotify?  Do you use it as an artist? Do you feel it's useful to artists of the underground house genre? Mixed opinions, I don't use it that much for listening to music and don't pay a massive amount of attention on my own material on it. My view is underground music needs to be supported from the consumer directly with the labels or artists. 
What's the best bit of musical advice you've been given? I remember seeing an interview with Andrew Weatherall and he quoted "Don't rush it, take your time", which I think is spot on. Everyone is gagging to get music out there, just take a pause and make sure what you're delivering is the best it can be.  
What tip would you give to labels trying to put out a vinyl record? Try and get a deal with a company, to press and distribute your release. Pressing yourself can be pricey and then you need to sell them yourself or push it to stores yourself. Make sure it's a solid release, be 100% sure or near to, that you're happy. Promote the hell out of it, that's important. 
What's coming up next for K.Mo? The Space Funk EP is out on 25th June. An EP for Unknown Season will drop soon after. On the DJing front, I'm all up to get out and play some club or festival gigs soon. 
-K.Mo
Comments
comments