Esteemed UK DJ and ever more vital production talent Matt.Gray lands on his own Intuito Records with a new single that features a remix by Denney.
Matt.Gray has established himself and his stylish house and techno sound thanks to DJ sets at clubs like Ministry of Sound and Distrikt, and for brands like Mixmag and We Love playing alongside the likes of Tania Vulcano, Sasha, Green Velvet, James Zabiela, Pete Tong, Paul Woolford, Glimpse, Gregor Tresher, POPOF and Ame. He is a real travel lover who takes inspiration from his journeys, and after working under various different aliases is now focussed on this project where he impresses once again here.
'One Day Soon' is a perfect warehouse styled cut with grainy chords, a smoggy atmosphere and driving kicks that will get huge clubs locked in. Subtle builds and fills keep things lively and ensure maximum impact.
Remixer Denney is a UK titan who has been turning out top tackle for 15 years on labels like Saved, Hot Creations and We Are The Brave. He is at home everywhere from the DC10 terrace to clubs across South America. His excellently chunky remix is a dubby and mid tempo affair with plenty of suspenseful chords and pads that ring out to the heavens and subtle vocals that shimmer above the groove and add to the atmosphere.
Matt.Gray 'One Day Soon' drops via Intuito Records on 28th September 2020.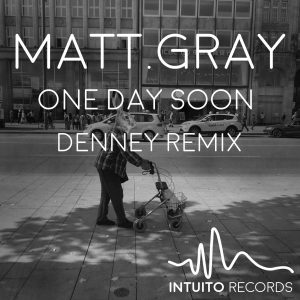 Artist: Matt.Gray, Denney
Title: One Day Soon (Incl. Denney Remix)
Label: Intuito Records
Release Date: 2020-09-28
– jbravo
Juany Bravo
Managing Editor
jbravo@musicis4lovers.com

Comments
comments