Our next Hometown Heroes guest mix takes us over the pond to Birmingham, UK where Marlon Kirk holds down the deep vibes. Check the mix and learn more about Marlon and his past and upcoming work in our exclusive interview below.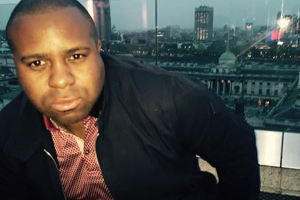 Interview With Marlon Kirk
1.) Can you talk a little bit about this release, Standing Alone and the different mixes in the pack?  Was there anything particularly special about the production of this one?
Standing Alone represents the current stance in music where technology is advanced allowing you to submerge yourself into music when things don't exactly go your way, those days of despair where the meaning of life changes and everything seems unreal. You then see a light at the end of the tunnel and start to think 'What was that all about' and the recovery is faster than you could ever of imagined. It was that track that got you through it all whilst you were standing alone trying to makes sense of it all.
I started off with just Standing Alone (Original), the feel of it really started to grab me once the chords were in, though knew I needed something funky, something fusion'd to hold down the smooth flow, normal drumming would not have kept the flow so I often use a bit of Syncopation in my drumming to ensure there's no dead spots on a track like this. The flow was there from this moment on. In making the distraction mix, seeing at the end of the Original there was an undeniable strong beat which I thought sounded raw so I built on that to give an new age Afro feel to the release in my Distraction mix, which I often do if I'm remixing or going left field hence distraction. I knew the kind of vibe I was after being in the club face facing floor letting the vibes flow through me as the subs resonate through my body… 'hood up attitude' dark and dirty. As in most cases sometimes you just want the vibes without the words, therefore creating the dubs & instrumentals

2.) You've already had quite a busy year coming off an insanely productive 2019, what are some of your highlight releases so far outside of this one?
Good question!  I've tried many times to stick to one genre only but it never happens in my productions, my mind just doesn't work like that. Usually I'm deep, however sometimes I start off making a track and I create some sound that sits so well it changes the dynamics of what I was first producing as I take influence from many genres and almost create my own on each release but I'm always drawn back to the deep moody vibe. A lot of my productions are literally about the day I'm having and the the titles say a lot about the day I'm having!
3.) Who are some of the musical figures you look up to or draw inspiration from in your own productions?
Roy Ayers, Larry Levan, Louie Vega, Atjazz, Joey Negro, Alex Niggeman, A Guy called Gerald, Deetron, Osunlade, Jimpster, Oscar P, Fred P, Ross Couch, Sean McCabe, Rocco, Ralf Gum, Jimpster, Mateo & Matos, Jeremy Sylvester, Ron Carroll, Andy Ward, Mr V,  Nick Holder, Kai Alce, my music is a fusion and I take inspiration from all walks of life but these are some that have helped shape the way I produce, there's a lot of emotions in the above.
4. ) Can you talk about the creation of Unprincipled Records and some of the spotlight releases in it's catalog?  
Having run Chill 'Til Late Records since Jan 2018 which was the first label I setup homing to the Lounge and Chillout genre knew I couldn't mix it up with other genres, I wanted this one pure!
This was a frustration to me because I had so many ideas for other genres and knew it would mess with listeners if I introduced those tracks also, so I created Unprincipled Records which is the sub-label to CTLR. This opened up the doors for me to explore the side I've been holding back and allowed me to unleash all of those ideas that were in my head. The label is now 17 months old so a young buck in the game, though attention is growing and getting supported by some of our greats
Melodrama was the launch of my label and an album so that's got to be up there, which has an array of vibes on the deep and Afro tip
Thinkin' 'bout you had a remix on from the SoulTwins which rocked and the collaboration was great.
Messages EP , She gets to me, was played by Shur-I-Kan and seemed to capture the title very well
Days Of Hope really is me and Mood Swings EP is a taste of me
5.) What have you been up to during the quarantine time?  
I've been keeping myself busy with productions for 2021, Netflix and Chill, getting on wifeys nerves, I've also been on a Keto diet for the last 5 months so keeping fit when I can and having a drink when I can!!!
6.) Anything coming up you'd like to plug here for our readers?
There are releases out every month for both labels Chill 'Til Late Records and Unprincipled Records up until November where Decembers releases will be compilations of the years works.
Next year I will start to collaborate more and introduce selectively new Artist to the labels
I also have a release coming out on Plastik People Digital later this year (Drama), so please look out for that one and massive thanks to Marc Cotterell
-Marlon Kirk
Turn it up & enjoy!

Comments
comments