The Spaces Between were formed out of creative studio sessions in the summer of 2020 and comprises of bona fide house legend Terry Farley, electronic music producer Wade Teo and renowned author and co-owner of Club Chi'll Records, Ian 'Snowy' Snowball. The idea for 'Ghosts' came from Terry's idea to reference the Jazz greats who have gone to glory leaving behind their astonishing musical legacies. Within days of emailing a comprehensive list of jazz artists to Chicago House luminary and The It/ Jungle Wonz member, Harry Dennis, an answer with Harry's sparse, haunting vocals was received. These were laid down over a bed of live instruments and electronic sounds and the combined talents of The Spaces Between created the compelling jacking jazz vibe of 'Ghosts'.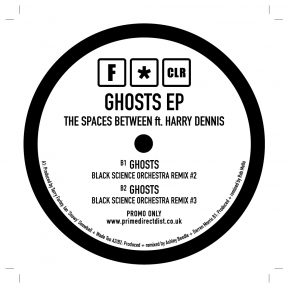 Artist: The Spaces Between ft. Harry Dennis, Black Science Orchestra
Title: Ghosts
Label: F*CLR Music
Release Date: 2020-03-05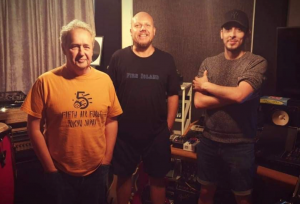 Interview with Terry Farley (The Spaces Between)
The cast is one of legends and we are delighted to be premiering a track from the 'Ghosts EP'. We caught up with UK House head Terry Farley to talk about the forthcoming release.
What can you tell us about 'The Spaces Between'? Who is involved? Basically, Ian 'Snowy' Snowball sent me a record that Marshall Jefferson had 'found' in his mum's garage of a long lost Jungle Wonz track he had produced back in the 80's called 'Human Condition'. It was perhaps my fave record of 2019 and when I found out Snowy was in touch with the vocalist Harry Dennis I asked if we could all collaborate on a project. I had an idea about name checking the jazz greats of Chicago & NYC. Harry literally did the vocals and wrote the lyrics within a week. Wade Teo and Ian are great guys and very easy to work with and full of great ideas.
The track 'Ghosts' is a beautiful affair which references the jazz greats who have passed. What was the origin of this idea? What did you want to convey? The link from Nina Simone to say Honey Dijon or Count Basie to Frankie Knuckles is very apparent to me. I'm certainly not putting playing records or producing music in a studio on par with leading a live big band or writing and singing anthems for the ages but there's a lineage that needs to be understood.
Why did you choose F*CLR to work with on this release? I sent the record first to Ashley who I knew would dig it and he immediately said he wanted it for the label that his wife Jo runs. We could have punted it out and waited for the best offer but we simply wanted 'the best home'.
If you're going have a team remix a house track, does it get any better than the Black Science Orchestra? When did they start working together again? Is it all the same people? This is the first time Daddy Ash & Rob Mello have worked together in a long time plus Darren Morris has joined them from the current remix team Ashley works with these days so successfully.
What do you think the BSO have brought to the release? Gravitas, a sense of Soul and heritage. The stuff that is missing in 90% of dance music these days.
Ashley Beedle and you go back a long way with Junior Boys Own. What's it like to work on a project together again? As easy as it ever was. Ashley & Co. do their thing and I say 'yes'. I can't remember ever turning down a BSO track presented to Steve Hall or me at Junior Boys Own
What's up next for The Spaces Between? We've a track with Rowetta who Pete Heller and myself had remixed when she was singing for the Happy Mondays and we were the 'Fire island' remix duo. She's got a great voice – hopefully Wade , Snowy & myself can do it justice.
-The Spaces Between
Turn it up & enjoy!

Comments
comments