Staybad drops it's 20th release, courtesy of the rising italo-swiss producer, Deepear. He graces the catalog with 3 deep, groovin' house cuts, nicely suited for a variety of both early and late night dance floor situations.
We got the chance to chat with Deepear to learn a little bit more about the man behind the music!
Artist: Deepear
Title: Give It Up
Label: Staybad
Release Date: 2021-04-23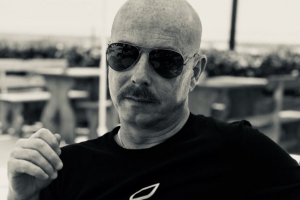 Interview with Deepear
Can you give us a quick background on yourself? Who exactly is Deepear?
I'm Roberto, house music lover since the fabulous 90s, passionate about house music and nightlife as a young man, father producer as a young man inside!
You're just about to put out a bad-ass EP on Staybad, tell us a little about the making of this one.
Lockdown period have helped. I tried to recreate the 90s grooves (the ones I prefer) 6AM Dark has a slight lowpass to emulate those dark sounding vinyls (I didn't know was labeled minimal!)
Would you say there's a specific, stand-out track for you personally in your discography?
My preferred is Deepmood. A track with a long story that ended badly self-released.
What can you tell us about the music scene where you're located?
It's strange ,but I'm totally on the outside since my friend DJ Pison is gone (r.i.p.) I don't care, everything has changed a lot.
Are there any like-minded artists around you that you frequently work with in the studio?
Unfortunately not close.
Do you guys have any musical inspirations that have helped you sculpt and find your sound over the years?
I have to thank to Danny Lewis for inspiration, knowledge, and passion. I try inspirations from all the music have listened over the years from the 90s I say Murk.
What have you been doing to keep busy during the quarantine time?
Music saved my life (Netflix too)
Any other cool releases dropping soon this year that we should know about?
Sonambulos Muzic debuting at the end of May.
-Deepear
Comments
comments