Following hot on the heels of the brilliant collab release with Shur-I-Kan, the man like Milton Jackson steps up for his first solo outing for Freerange since 2009. With just a couple of recent and forthcoming releases for Closer To Truth and Housewax, we welcome the Scotsman back with open arms as he delivers a five track EP which we're sure you'll agree has been well worth the wait!
As one of the UK's most respected deep house producers, Milton Jackson lets us into his studio for a sneak at his most important pieces of kit.
Ahead of this stellar release, we got a chance to peer into the work-space of this magic maker!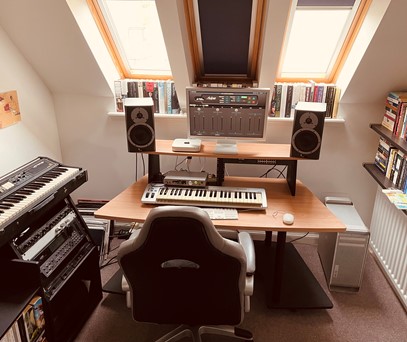 ---
Genuine Audio Summing Mixer and Alesis 3630
The Genuine Audio Summing mixer I've had for many years. I bought it off a guy who made it himself in Berlin. It's got loads of Stereo and Mono inputs and I can run all my inputs into there and it also has a nice send for using a Bus Compressor plus a record out back into the Soundcard. I run 2 soundcards concurrently: one is a Prism Sound Lyra (borrowed from my friend Andrew Pirie) which runs into the 3630 in parallel with the output from my UAD soundcard which goes direct into the summing mixer. Not sure if that's the correct way to go about things but it sounds pretty good.

Roland RS-202 Strings Keyboard
I bought this about 15 years ago and then sold it to Al Kent. He's very kindly let me borrow it back again for a while. Beautiful eerie/crackly string sounds, I use it on pretty much every track I do. It has a nice filter and Chorus plus no MIDI so you have to play it live which I like.
I'm using this all the time now – love the sound and the workflow it forces onto you. 3 of the tracks on my latest Freerange EP are fully from this sampler. It was quite challenging initially but it gets your head out of the DAW.
I got these solely off the back of a Radio Slave interview in which he said he uses them. I think everyone who bought them got them off the back of that interview. I hope he got some royalties from Dynaudio!
-Milton Jackson
Milton Jackson releases his 'House Arrest EP' on Freerange Records 3rd December.
Turn it up & enjoy!

Comments
comments