March has arrived, and this month CODA has a solid lineup of international talent coming through, to make you boogie down on the dance floor. This Thursday, Liverpool duo Camelphat makes their return to CODA, while tech house titan Patrick Topping rolls through on Friday March 6th, along with Leeds duo Prospa. Toronto favourite Maya Jane Coles will take over the decks with her sultry tunes, and majestic vibe on March 7th, and Huxley will stir up the room with his slick, high impact does of the good stuff. Brazilian export Victor Ruiz will serenade music lovers on March 14th, and No Neon is back for another instalment of the event series, with Joyhauser and Hunter on March 21. 4×2 event series is back on March 28th – 4×2 is a concept which showcases back-to-back sessions on a set up of 2 mixers and 4 CDJs. Catch Toronto's local heroes: Addy, Jayforce, Quim, Ticky Ty, U.N.I, Randomdoug, 2Shay, and Triple-ohm. There you have it, a freshly curated lineup to get you through to the first day of Spring.
Thursday, March 5 – Camelphat 
Liverpool dance duo Camelphat makes their return to CODA on a Thursday night. With 10 years behind them as a duo, get ready to see what the hype is all about.
Friday, March 6 – Patrick Topping + Prospa 
Carving a reputation as one of the contemporary faces of British house and techno, Patrick Topping continues to garner widespread acclaim on account of his prolific production prowess and dynamic DJ sets. Joining Topping are Leeds duo Prospa, with their rave euphoria for the next generation.
Saturday, March 7 – Maya Jane Coles 
British producer Maya Jane Coles: A Toronto favourite, is back once again this Saturday, for a night of sultry dance music. After beginning to hone her skills at aged 15, producing hip-hop before experimenting with darker electronica, Coles later progressed to producing house as she spent time dancing in the clubs and warehouses across east London. It was in 2010, with the release of 'What They Say' via Real Tone Records (The Martinez Brothers, Shonky, Franck Roger), that her meteoric rise really began.
Friday, March 13 – Huxley 
Over the last seven plus years, the friendly character has excelled at many different styles, often ahead of the curve. He does well swung drums as well as bass, main room house and deeper, musically accomplished offerings that stir real emotion.
Saturday, March 14 – Victor Ruiz
Victor Ruiz' career spans some 13 years at the pinnacle of his profession. Signed to a bewildering array of labels, from Sudbeat and Yoshitoshi to Drumcode and Noir Music, his musical take on techno has evolved over those years into a slick, future-proofed melodic tech hybrid.
Saturday, March 21 – No Neon: Joyhauser x Hunter 
Joyhauser is one of the most exciting, incendiary acts in today's techno scene. Since their emergence in 2017 the notorious duo have smashed dance floors across the world, picking up a huge following and gaining support from many of the scene's most influential figureheads, including Amelie Lens and Pan-Pot and Adam Beyer. Hunter Siegel has never shied away from a challenge, whether that be breaking ground for new music or independently putting together one of the most successful music series of Canada's last half-decade in No Neon…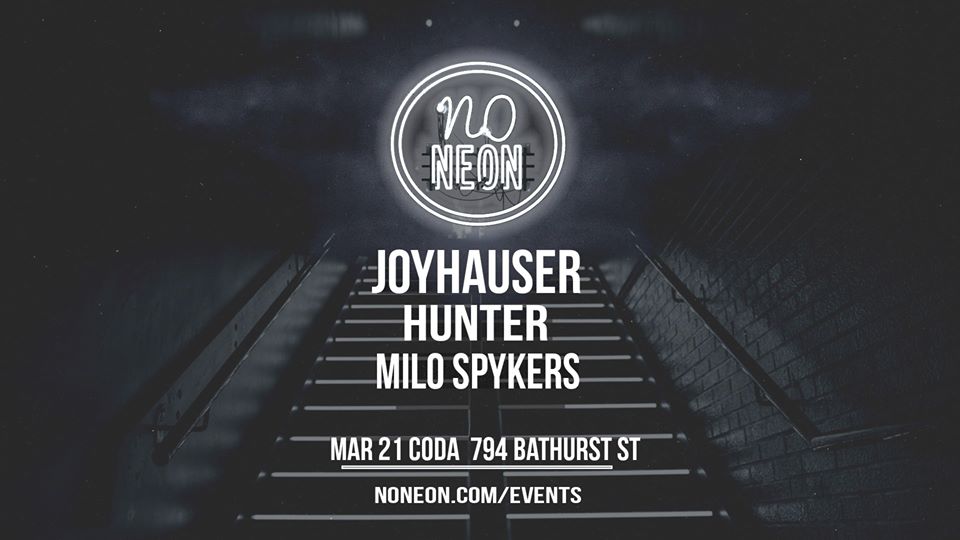 Saturday, March 28 – 4×2
4×2 is a concept which showcases back-to-back sessions on a set up of 2 mixers and 4 CDJs. Catch these local heroes for your chance to win a Spring 2020 Season Pass to CODA!
This Edition Features:
x ADDY vs JAYFORCE
x QUIM vs TICKY TY
x U.N.I vs RANDOMDOUG
x 2SHAY vs TRI-OHM
Comments
comments