The LoveBath is back with another smooth, funkadelic episode for you to snuggle up and crack some bubbly to. This time we've got one of the funkiest groups on the east coast, FSQ!
Together, FSQ holds decades and decades of collective experience within the funk & soul community, and we got a chance to hear more about the amazing stories behind the group, and what they've got on their groovy plates moving into 2020.
Turn it up & enjoy!
Interview With FSQ
1.) Can you tell us a bit about the back-story & creation of FSQ?
First of all, to anyone who's reading this interview, thank you very much, your time is appreciated. Feel free to drop a follow up question in the comments, message us, let us know what else you would like to know.
I am a writer of both music, and lyrics, and really I have been practicing long form writing for years, it's one of my passions. So I like to write about FSQ, and tell our story in the written word, but we've moved to a digital and visual world where we are supposed to tell everything in a 15 second Instagram stories that disappear the next morning. This fact that the world is moving towards disposable media is not lost on me, so we appreciate the opportunity to tell you about our music project in a deeper way, for the record. Thank you!
The creation of FSQ? Ha! Wow, well that takes us back to 2012. Today, in 2019, FSQ is a 6 person production team and DJ unit composed of myself aka Chuck Da Fonk Fishman, Chas Bronz, One Era, Morgan Wiley, and 7-time Grammy nominated G Koop. FSQ member and co-founder Sa'd The Hourchild Ali left this energy sphere in 2018 but lives on with us in everything we do.
There's this great clip that we made back in 2013 for Soul Clap, the first year of FSQ's existence, that kind of explains it but let me dig in a bit more, it's a creation backstory that also touches other artists like Soul Clap and George Clinton.
I moved to San Francisco in 2007 with a bunch of session files I had been working on in Philadelphia with a lot of jazz guys, important in the world of free jazz, like Byard Lancaster. Also in Philadelphia around that time, I met Michael Fichman, aka Michael The Lion, today our Soul Clap Records label mate. I heard what Michael and his peers were doing with dance music production and I was inspired to maybe rethink the music I was producing, which was mainly jazz funk.
So when I got to San Francisco, I sought out someone local who could help me revise the finished product I had been working on. Prozack Turner is a rapper who has a project called Foreign Legion out of the Bay Area. I really liked the beats they had going on their EP, and I asked Prozack who was producing it: G Koop. Today G Koop has so many important beats under his belt, productions for 2 Chainz, Migos, Rihanna, YBN Cordae, 21 Savage, Freeway and one of my most favorite projects he works on, Atmosphere.
I reached out to G Koop in 2008 and we started working on the old sessions from Philadelphia. The music from that project was called fONKSQUISh, which was an amalgamation of two of my nicknames, Chuck Da "Fonk" and "Squishy". That just didn't sound right anymore in the new world I was reaching for. It worked for a jazz funk band, but not for a dance music production.
I took the vowels out of fONKSQUISh and came up with a simpler, three letter FSQ which had the same sound as the word fONKSQUISh but a better more streamlined vibe.
The first FSQ record G Koop and I made together was "Zulu Congo Call" with John Coltrane sextet saxophonist Prince Lasha (RIP), and this wound up being our Soul Clap Records debut in 2014. We cut the tune in 2008 but I know it needed it a refresh before we could pitch it to Soul Clap for release.
So yes that's also part of our creation backstory – Soul Clap. I was working for a digital music start up around 2012, called official.fm. Soul Clap were one of the music artists to try the platform out and that's how I was introduced to them. It's pretty well known that I toured and continue to work with George Clinton & Parliament Funkadelic aka P-Funk. Eli and Charlie (Soul Clap) are wild about P-Funk and they asked if I could help them affect a collaboration.
The conduit to make this P-Funk x E-Funk collaboration actually happen would be Sa'd The Hourchild Ali, my long time musical and road partner. We used to tour together with P-Funk in the mid 1990s. George Clinton actually assigned him to ride with me, to keep an eye on me because my parents were concerned about me being on the road with P-Funk.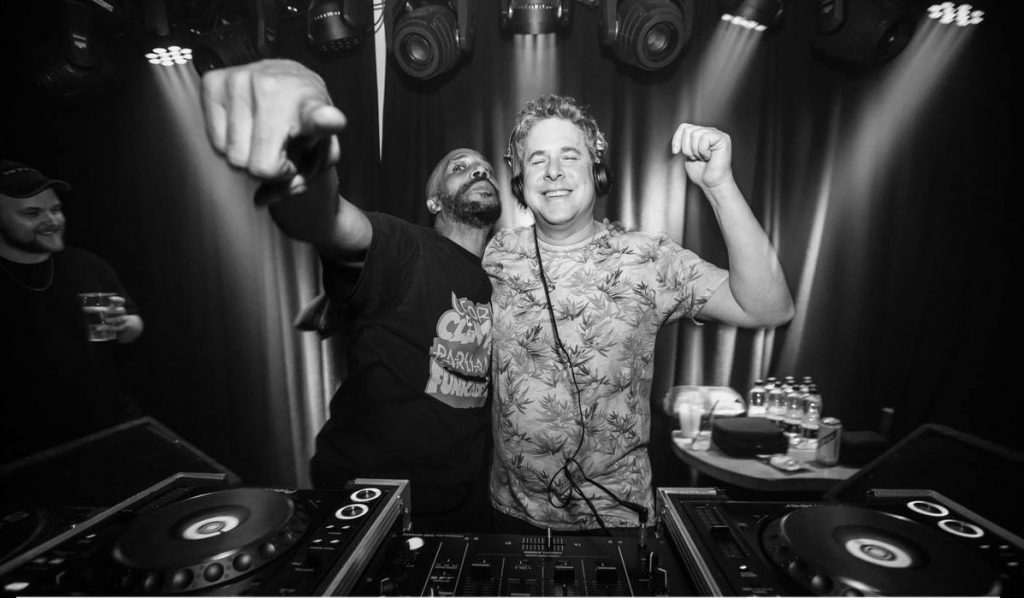 Sa'd was managing George Clinton's Tallahassee, Florida recording studio about 2012 and I saw a path for everyone to benefit from the joint work between Soul Clap and P-Funk. For Sa'd, first he's also George's nephew sure and a member of the group, but beyond P-Funk he has deep roots in disco, hip hop and house music history. In the mid 1980s, Sa'd was a hip-hop head who worked for Tommy Boy Records on Atlanta radio promotion, and he was one of the first promoters to bring Chicago house to Atlanta. From there, Sa'd went on to road manage Fingers Inc on their first European tour, stuff like that.
Maybe I wasn't clear on Sa'd's musical history outside of P-Funk before we really started working together on FSQ, but I sensed we better extend the FSQ project to include Sa'd as a hype man. I knew he had a loud mouth and could get the word out, plus his social network was huge. More importantly, FSQ in a sense was project managing this Soul Clap collaboration and we needed to formalize that concept. Little did I know Sa'd had been a child prodigy DJ working New Jersey legendary house music clubs like Zanzibar or that he really is tight with Louie Vega and a long list of legends.
Sa'd and I executed the Soul Clap x P-Funk collaboration, concluding with 2013 recording sessions at Red Bull Studios Los Angeles that also involved FSQ OG G Koop, plus Nick Monaco, and Navid Izadi. Oh and let's not forget that Sa'd was able to get the very elusive Sly Stone to show up for the sessions! We call Sa'd "The Hourchild" for his innate ability to always just appear, and be totally on time with some out of this world, brilliant real shit. Like "poof" "shazam" here's Sly at the studio door with Sa'd, now let's work!
So now, 2013, there are three of us in FSQ: Chuck Da Fonk, G Koop, and Sa'd The Hourchild Ali. Well remember I said this record "Zulu Congo Call" that I wanted to pitch to Soul Clap as FSQ felt a little dated. So some new blood came in to help lively up the record.
One Era aka Matt Coogan is a talented multi instrumentalist and producer out of Philadelphia. I never heard of him before 2012, but I had just lost a remix competition to him. So rather than be jealous of his win, I instead wanted to harness his amazing talents. I reached out to see if he could do some work with us. One Era turned in a remix of "Zulu Congo Call" that I dubbed the "Caribbean Disco" remix and that's been a style we've been working with ever since I begged One Era to join the group. I could see what a great reaction his remix for FSQ was getting overseas, as Soul Clap really supported that remix before it's actual release, playing it out everywhere. We still bang that version hard today.
Chas Bronz is cut from that same rare cloth that G Koop and One Era come from; just, wow another super talented producer and multi instrumentalist. Actually the three of them play so many instruments, but to me first and foremost they are all guitar gods! Anyways speaking of guitars, I heard a track called "Love Only You" in 2013 on the Soul Clap curated compilation "Dancing On The Charles" which had this blazing funk guitar solo. I had to know what the sample was, ha, but it wasn't a sample at all, it was Chas Bronz playing.
Chas can go real Eddie Hazel or Michael Hampton on you (two of P-Funk's main legendary guitarists). I asked Soul Clap for an introduction to Chas. Once I got it, I also asked Chas do his own version of "Zulu Congo Call" with G Koop that turned out to be very slick and angular, totally opposite of One Era's remix. This was now the main mix and it came out in a much more house vein. Pete Tong debuted the track on his show in 2014, so much wow with this record.
I should mention that not only did I induct Chas Bronz into the group, Sa'd and I asked Chas to come down to Florida for George's 72nd birthday party in the summer of 2013. We threw Chas right into the P-Funk fire right away! Ha, I'll never forget that, he didn't know what he was in for but he was a good sport about it and it was so great seeing Chas directly connect with his favorite P-Funk legends.
So that's our backstory – there were now 5 of us – the core of FSQ just in time for our first release "Zulu Congo Call" EP which got a 10/10 in Mixmag and 9/10 in DJ Mag. We were blown away by that response.
So now, let's also bring you up to speed on how FSQ has grown since then.
After the EP release in early 2014, the three of us from FSQ – Chas Bronz, Sa'd The Hourchild Ali, and myself – started DJing together with sets culled from our own production catalog and our combined deep knowledge of what we call #SFDH, aka " Soul, Funk, Disco and House" and genres farther afield like Post Punk New Wave, Jazz, Balearic etc. Sometimes it was hard to support three DJs out on the road, so it would just be me and Sa'd. Today, Chas and myself carry the DJ torch for Sa'd, who began in his career 1977 as a disco soul DJ. We really stick to this SFDH moniker in our sets.
Morgan Wiley, keyboardist and a main member of the legendary New York disco troup Midnight Magic, became my go to engineer and producer for recording FSQ in New York. Lots of the FSQ productions begin in New York with myself and Morgan, and other local musician friends like David Marston. So we added Morgan to the FSQ masthead in 2017 as a full member.
Beyond releasing FSQ studio productions on record labels like Soul Clap, Bastard Jazz, Wolf + Lamb, Midnight Riot, Jalapeno Records, BBE and many others, plus our DJ sets, it became clear that FSQ needs to play our music live with a band to really capture the essence of our sound and present a unique experience.
So in 2018 we started a side group, The Supreme Qualities, aka The SQ's, to play rhythm behind the FSQ members. We've got a great group – including our long time partner and collaborator, original P-Funk bass player, and the creator of the term "Funkadelic" itself. – that's Billy Bass Nelson. He's on bass and guitar interchangeably within The SQ's.
The SQ's are led by an incredible drummer, Andrew Marsh, who happens to be a classmate of G Koop's from Berklee College of Music. Andrew is the most pocketed funky drummer I know out there, and he's now appearing on a lot of our FSQ new productions. He's as precise as a drum machine and has fills, riffs, patterns for days – it's the best analog drum sound for the dance music styles we are producing.
Expect to see more FSQ and The SQ's live shows in the year ahead. On vocal duties for FSQ and The SQ's we have guest vocalists sing our material from our upcoming album, "Reprise Tonight. We were graced this year by Nicki B of New York disco dons Escort, and the previous year Dolette McDonald led us on vocals. Dolette is a frequent collaborator and very well known for her live touring and studio vocal work for The Talking Heads, Sting, Laurie Anderson and countless others.
2.) The motto, Funk, Style, Quality. What does this mean to you guys and how does it apply to the music you're bringing into the world?
Ha first of all, I told you like I just came up with FSQ as a way to shorten the fONKSQUISh name, but then yeah, I was like this must stand for something! I also figured it was like a tagline an abbreviation like ESQ is for Esquire. Alas, I realized that FSQ could stand for Funk, Style and Quality. Three things we all in FSQ truly believe in.
FUNK: Make it Funky! We always start with our music creation with funk at the core, which means musically – a pocketed live drum beat, a simple melodic bass line, 2 to 3 interlocking funk guitar parts, simple synth chords and maybe some Fender Rhodes or organ. That's our core funk sound, as close to James Brown (without the horns) as possible..
STYLE: All of our FSQ productions are pretty lush because you may start recording a track with Chas, pass it on to G Koop, and then over to One Era. Or maybe Morgan and I start something and go over to G Koop and then it goes to Chas. RIght there you are going to have three different styles on a record. There are so many production combinations possible in FSQ in terms of personnel. It's formula with enough variables to produce many different results and diverse styles. We are all in different cities : G Koop is in Oakland, California ; One Era in Philadelphia ; Morgan and myself in New York ; Chas splits his time between New York and Boston.
Individually, I know what a G Koop, Chas Bronz, One Era, Morgan Wiley produced record sounds like. They have their unique drum sounds, keyboards they use, bass and guitar playing styles. In fact, I've been making playlists of their individual work so you can hear what they do on their own. For instance, check out two plus hours of Chas' solo works and some collaborations here. FYI Chas' work has gone under many monikers in the past but this is indeed his work:
The Spirit of Chas Bronz – a Spotify Playlist: http://bit.ly/chas_bronz
Or Morgan recently produced a project with a friend of ours, Ria Bird, called 88 Palms. Morgan's style is pretty wet with lush analog synthesizers. Morgan is also featured in the music video:
I can hear G Koop's melancholy guitar chords and plucking style on this 2 Chainz hit he co-produced:
One Era is a total boss – and he's definitely the one bringing us the Caribbean and latin sounds. In his off time from producing music, he is a percussion equipment sourcing and sales specialist at legendary Steve Weiss Music so he knows how to put tropical rhythms to put in the mix. In addition to his deep percussion knowledge, he's also one of my favorite funk rhythm guitar players. Matt (One Era) is also quite the Bernie Worrell type (P-Funk keyboard legend) with the synths – lots of squiggly riffs to add to the mix.
The layering of Chas Bronz, G Koop, and One Era's guitars on any of our productions is something to really listen for. There's certainly an overall guitar driven funk sound on our upcoming album "Reprise Tonight" and sometimes it's multiple members playing distinct guitar parts together at once, for instance, on a tune like "Dancefloor Democracy" which appears on the record.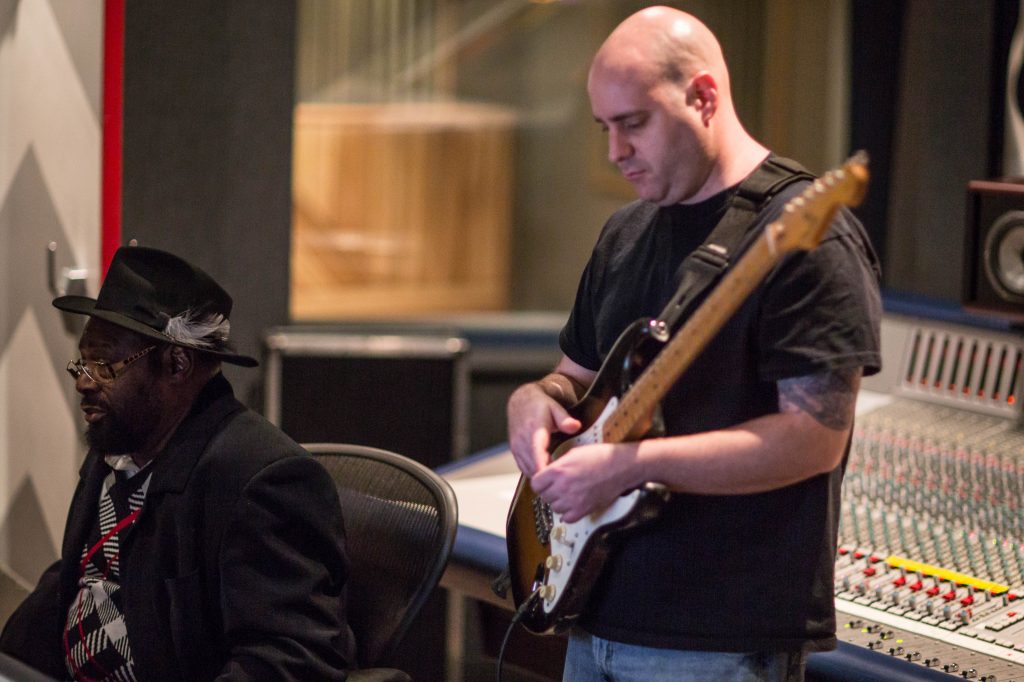 We don't want to be basic, we really believe that unique musical genres, or "styles" are our palette to create a sonic painting, a real "tune". For remix production work that means we apply a specific musical style on top of that initial funk. So we will take a real defined style and apply it to the core work. For instance, FSQ recently remixed Lonely C's "True" from his album "Charles & Tribulations" album and our work resulted in two remixes, both coming together with very different styles. Lonely C is Charles Levine, one half of Soul Clap.
For the "True" remix production, Morgan and I got in the studio with Caito Sanchez (also of Midnight Magic). Caito put down some guitar at my direction and Andrew Marsh our The SQ's drummer hit the skins with a disco beat. P-Funk legend Billy Bass Nelson, well he did his bass thing based on some new parts I had written.
We put that core funk down, but then G Koop took the initial recording we had for the Lonely C remix, and put a style shine on the track that is very reminiscent of early Funkadelic albums. So we called G Koop's finished effort "True (The Funkadelic Touch Remix)". It's bluesy and brooding. 5 Magazine recently called this remix a "thick syrupy jam".
Myself and One Era took the same initial remix recording session and slapped on some percussions like clave and bongos, plus some slippery 80s synths, plucked guitars, and reggae pianos. The result is our "True (FSQ Caribbean Disco Remix"). This remix of the same song comes at you with more of a dancefloor angle and builds towards a sunset vibe.
So with "True" we took the same song, and wound up with two different remixes with distinct styles. FSQ can produce styles upon styles! We did the same thing for Nick Monaco a few years ago with his hit "Babyface" where we produced both a 10 minute disco remix and reggae dub remix of the tune.
QUALITY: With quality, that's an element that G Koop instilled in us. G Koop is adamant – don't ever let people hear your demos – "finish your work first". Put your best foot forward at the first opportunity, don't blow it on something half done. So I'm crazy diligent on this point. No one in FSQ should ever play someone one of our songs or remix productions until it's total quality: 1000% finished, properly mixed, and mastered. Have you ever tried to play an unmastered song in the club? It just won't sound right!
3.) What upcoming projects/releases are you most excited about?
We have a monster coming for you all next year on Soul Clap Records. It's called FSQ's "Reprise Tonight". It's a funky concept album about someone who thought their chance to have a legendary night out, a party of a lifetime, had escaped them. Music and the party adventures were over for them, or at least they thought. This album is about partying as a means of escape but "just how far will you go in the name of one last legendary party", you have to ask yourself this !! And over the course of 8 songs this question is answered.
We are joined on the album again by Billy Bass Nelson. On top of an already stacked house of instruments played by FSQ, Billy's thickens our distinct guitar driven, dance music sound even more. P-Funk's TreyLewd (George Clinton's son) and Rodney "Skeet" Curtis also join in on guitar and bass respectively.
I wrote all almost all the lyrics for this concept album, which is really my own personal story and they are sung by George Clinton, Dolette McDonald, Denise King, and Fonda Rae. Fonda Rae is a legend with her disco funk hits like "Over Like a Fat Rat" and "Touch Me" but most people forget she was also a part of two projects by funk legend August Darnell – that's Kid Creole and the Coconuts and the Don Armando's 2nd Avenue Rhumba Band. This is her first solo vocal feature in over 25 years.
Nona Hendryx helped me on lyrics writing for "Peel Back" from the album. It's a song about trying to extricate yourself from a party before closing time, like "Peel Back from the party, it's time to leave". I was stuck on the lyrics, and Nona understood the concept and just ran with the writing. We are so honored to have her give this song so much life, she sings and belts it out all the way through this 8 minute plus funk jam which features G Koop's own production project G Koop and O-Man. G Koop and O-Man have a production YouTube series that musicians can really learn a lot from:
We put several songs from "Reprise Tonight" in this exclusive mix for Music is 4 Lovers. What's really special is that Tom Moulton, seriously heavy producer, studious audio engineer and inventor of the long playing disco mix, has remixed several of the cuts for the album. In this mix you'll find the Tom Moulton mixes for FSQ's "Vibe Out" and "The Infinite Reprise".
So stay tuned for "Reprise Tonight" and follow all of us individually to keep tabs on our solo projects, you never know when there will be a new G Koop production (likely a huge hip hop hit), a One Era remix, or new solo work from Chas Bronz. Midnight Magic continues to impress me and Morgan's input there is vital.
And of course please follow FSQ (preferably on Spotify because they will notify you of new releases from us) to keep up with our consistent stream of remix productions.
Next up on the release calendar, a FSQ Caribbean Disco remix for David Marston's DejaVilla project which will be coming out on Ultra Records.
4.) Whats your #1 dancefloor weapon at the moment?
You need to come see a FSQ DJ set because Chas and I, we really get into the songs we are playing. We love to dance! So often I'm not looking beyond the booth, I'm instead dancing my ass off. I'm using the weapons for my own enjoyment LOL! Maybe we will get into so much sometimes we will even lip synching to a song..
These three funky tunes are in the Music is 4 Lovers mix !
A great example of our enthusiastic DJ booth behavior occurs when we play Lonely C (Soul Clap) – True – FSQ Caribbean Disco Remix. At Elsewhere, a venue in Brooklyn, we played this remix during our Soul Clap House of E Funk set. Chas and I were like doing the hustle and bump with each other to it, choreographed dancing, and singing along word for word. This remix for Lonely C will be out on digital early next year – the FSQ Funkadelic remix version of it is out now on vinyl.
Another one we jam out too comes from another August Darnell (of Kid Creole) produced project. The song is "As Time Goes By" and it's by a UK funk group from the early 80s called Funkopolitan. Chas and I dug it up and are giving it new life, there's never been a reissue of it so we find it to be pretty special; it's on repeat.
I'm always amazed by Chas' ability to read a room and switch it up for the crowd. His bag of music is so deep. One new one Chas brought to our sets recently also elicits our own choreographed dancing and unbridled joy when we play it: it's Moon Boots and Steven Klavier's brand new bouncy disco house opus, titled "Tied Up".
Most everything else you hear in this mix – including a lot of brand new FSQ original productions and some of Chas Bronz's solo work including recent (and some unreleased) disco edits – are indeed our "dancefloor weapons"!!
Chas may play a big soulful house tune, and then I'll throw in a rare 80s boogie funk number. You'll hear this kind of ping pong between us in this special mix. We are so diverse in our DJ styles – but it's always funky, and always quality. Funk Style Quality indeed.

Comments
comments