Mexican artist, Replicanth, debuted 'Apolo' for us last year on our Floorplay Vol. 1 compilation. The VA included a little bit of everything for the most discerning selectors, and following its success, we are releasing some of the tracks as full EPs with both established and new artists on remix duties, in keeping with the ethos of the series.
In original form, 'Apolo' is an emotional journey dripping with soul. Heavily delayed piano hits, vocals and instruments float above the ether of lazy harmonica reverbs, icy pads and ethereal adlib washes. Hypnotic and warm, it feels like a favourite audio blanket lovingly wrapped around your shoulders as you look wistfully at the city at night twinkling against the glow of the moon.
First on remix duties is benū, a newcomer from Brooklyn, New York with his first release. Marrying the original vibe with nuanced Latin flavours, he develops a sensational stripped back organic Afro feel. Next, Belarusian supremo, Michael A adds his considerable talent. Thumping drums pair with far away pads and insistent percussion for a robust late night bruiser. Label favourite Electronic Youth takes the track in a groovy disco direction. Treading that fine line between disco and tech, the bassline is the star of this show. Finally, returning the favour of a remix, Brazil's CANCCI drops a pacey deep house vibe with tons of personality.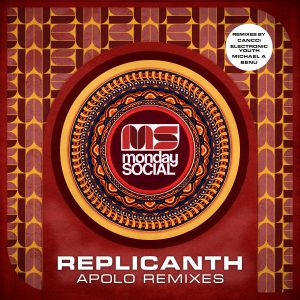 Artist: Replicanth, benū
Title: Apolo EP
Label: Monday Social Music
Release Date: 2020-07-24
– jbravo
Juany Bravo
Managing Editor
jbravo@musicis4lovers.com

Comments
comments