Underground System frontman Peter Matson, goes solo on 'The Right Way ft. Ibibio Sound Machine'. With remixes by Faze Action, it's dropping on Brooklyn label Bastard Jazz this Friday.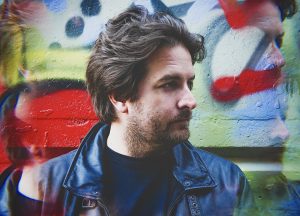 Interview with Peter Matson
Great to talk to you Peter. How is 2022 going for you so far?
You as well! It's been a solid 2022 so far. Holiday season last year got a bit rough in NYC. I left town following New Years and I'm really happy to be down in Mexico City for a couple months. I've been spending some time here every year for a little while now. I love working on music, DJing a bit, answering questions like this, etc.
Who would you say are the artists that have inspired you most past and present?
So many! This question is tough. My trajectory as a musician went from rock guitar into jazz, into the groove and dance music worlds, and I also studied music in college, so I really have touched on and been inspired by most genres at one point or another. A handful of all time classic albums here that most impacted me, from high school on (not including various dance 12"s): The Who 'Live at Leeds', Miles Davis 'Jack Johnson', Hank Mobley 'Soul Station', Grant Green 'Alive!', Fela Kuti 'Alagbon Close', Buena Vista Social Club, Steve Reich 'Music For 18 Musicians', Talking Heads 'Remain in Light', Metro Area 'Metro Area', Antibalas 'Who is This America?', Oumou Sangare 'Mogoya', Theo Parrish 'Parallel Dimension'. Lots of records in the 99 records and ZE records downtown kind of realm…. ESG, Liquid Liquid, Lizzy Mercier Descloux. Compass Point Studios and Larry Levan type mixes. I'm also a big hip-hop head in general over the years…..
Is there a concept behind your new EP 'The Right Way'? Talk us through the EP a little..
'The Right Way' is a unique batch of tunes to me, the production of which bridged the gap between the busiest year of my musical career (2019) and the stillest a lot of us have ever felt in our lives (lockdown 2020). A lot of the musical gestures and themes evoke a juxtaposition of high energy and motion with a dash of slow burning introspection that I can trace to exactly this moment in time. Bits of inspiration and demo beats crafted while on tour around the EU with my band Underground System in 2019 made their way back home with me to Brooklyn, and a few grooves stuck out as complementary to each other; something worth fully fleshing out.. 
Do you have a particular production process that you follow when you start something new?
My process has slowly evolved over time. There are a couple go to studios I have used for years now to finish music, #1 being Transmitter Park Studio in Greenpoint, Brooklyn.
Where I most enjoy to begin the music making process is on small, makeshift setups of my own, in different environments that inspire me. Somewhere I'm living or staying for at least a few weeks. I'll bring a handful of my favourite instruments, a couple important pieces of hardware, and some small monitors with a quality interface (UA apollo). I've done this successfully on tour in France, in Mexico City, at family places in New York, etc. It's fun and inspiring to have both the limitations and feeling of possibility with new environments to develop a flow within. Most records you'll hear of mine came out of some situation like this.
We are premiering 'PB (Ça Va)' from the EP. What can you tell us about this track?
This was a really fun one for me to make. I remember pretty vividly in 2019 I was staying during a week off from tour in Sète, France. Every day I would have this routine of starting a few demos and then heading to the beach late afternoon. Being in the South of France gets you into that Balearic mindset pretty quickly, and with a couple of dreamy, suspended chords I crafted this mellow but forward pushing groove around it. I like the tempo that 'PB (Ça Va)' is at. Gives that feeling where you might just be starting a dance floor or warming up a sunset evening that you know has got a long way to go. The vocals came a bit later from my friend Domenica who I lead my band Underground System with. She did these harmonies that we dubbed out a bit and some mellow improvised spoken word in Italian.
How did you get together with Bastard Jazz?
Bastard Jazz was consistently in my periphery as a label to always trust, me being an eclectic NY based musician and DJ of sorts, and it felt right as a home for my work that often might not work with a label that has singular genre guidelines built into their ethos.
The first 12" EP that caught the ear of Aaron over at BJ was called 'Short Trips'. We connected through crossing various paths in BK and put that out in 2019. It was a decidedly more minimalistic record in terms of approach, and more on the house sounding side of things. This current one 'The Right Way' gets much more into afro/disco, Italo, and Balearic kind of territories.
You have collaborated with Ibibio Sound Machine on this release. Are there other artists that you would like to collaborate with and who are they?
For sure. I love collaboration and it's something I gravitated towards as I was learning production over the years. I could probably create a really long list, but a few dream collabs that are popping in my head at the moment: Oumou Sangare or some other Malian artists, Mim Suleiman who I love from all the afro-disco records she's done with Maurice Fulton, indie-pop sort of singers like Yukimi from Little Dragon and Roisin Murphy are bucket list if I got lucky enough to meet them someday scenarios.
At the moment I can also speak to a couple collaborations that have excited me and are happening currently: I've been working on music with Pahua who's a great vocalist from Mexico City. She has a group called Sotomayor with her brother and does solo work as well. Also, in my extended musical family I have had some successful recent collaborations with Brooklyn based musicians like JKriv (we had a recent release on Heist together) and Vito Roccoforte from The Rapture.
We love the artwork on this new EP. Tell us about the artist a little. Did you give them a brief or is it their own design?
Thanks! And yes, I love it too! The art and design was done by my friend Rui Maekawa, who I met in NY. I had some initial references in my mind, but it took a bit of figuring out to understand the final direction it should go in. Her concept of having these curved lines be the borders of where colours would break through on the cover imagery I love. I can't wait to see the finished product on the 12" in person!
Who would you love to see playing your music?
I have to say, I was really impressed by the response to the promo mail out for this EP, and flattered that it was getting paid attention to by a host of Balearic legends and other artists from similar schools. Francois K, Colleen 'Cosmo' Murphy, Greg Wilson, Ashley Beedle, Cafe del Mar, and a lot of other heavyweights.
Outside of well-established artists' support, a very exciting moment to experience for me is hearing your own music unexpectedly at a club or other venue. To know that someone connected with music you made in an unsolicited manner is often the most rewarding.
What was the last record you bought?
Sandra De Sa's album 'Vale Tudo'. Stellar Brazilian boogie and R&B from 1983.
Is there a perfect track in time you wish you had made and what is it?
This is quite a question haha. In general, I would love to be a fly on the wall in the late 70s/early 80s to see how all the producers of the era were executing the at the time new hybrid approach of production as sequencers and drum machines were meeting live instrumentation halfway. If I could see and make something like Morris Day/Prince's 777-9311 and know what it was like to do at that time. Also, just some out of control burning French touch type stuff. Cassius or Roulé era proto daft punk.
What's the best musical advice you've ever been given?
This advice from a few people I look up to reaches a bit broader than music itself, but very relevant: To create a lifetime of music as an independent artist, try and keep the overhead down on it as much as possible. A great mastering engineer friend of mine would always say the line, "make friends with people who own the yacht, don't own it". I think in my musical world we aren't losing much sleep over mainstream commercial success, so it mostly just translates to me being mindful about living relatively minimalistically and valuing the things that matter most in my creative universe. The people, places, and the journey. we're thankful for that and those experiences take a front seat to the material things.
When you're not making music, what do you like to do Peter?
I'd say I'm a fan of experiencing life and some of 'the finer things' haha. It often goes hand and hand with the music lifestyle. I really enjoy travelling and living in new places long enough to understand what they're about. The local way of life, food, drink, day to day routines, meeting a few new people etc. Over 2019 and the pandemic I started learning a lot about wine and working in a shop in Brooklyn, that's a side interest of mine that's developed quite a bit. Finally, amidst all these bohemian sorts of pleasures I'm also trying to be occasionally health conscious and I've grown more interested in exercise routines and a bit of mindfulness to help me along the way.
What do you have in the pipeline?
It's exciting and surreal to have lots of new music and travel to look forward to, even though the past couple years have taught us to unlearn having these sorts of expectations in the music world. The biggest music project I'm involved with in terms of scale/logistics is my band Underground System. We're finally getting back to releasing music with some new label partners Razor-N-Tape and Heavenly Sweetness. We have an EP out in May with this team and another in the fall. We're also getting to tour the live band again and go international with it, which was what we were up to most of 2019. Big in France and the EU! Haha.
Is there anything else we should know about you?
I'm tall. I trip on sidewalks and hit my head a lot in Mexico City which was not by nature designed for weird Russian/Dutch type people and their height.
-Peter Matson
Artist: Peter Matson
Title: The Right Way
Label: Bastard Jazz Recordings
Release Date: 2022-02-25
Comments
comments