Legendary San Diego producer, Oscar P hits the Staybad catalog with an instant classic. Fusing together the best elements of house and soul music, a-ny-thing comes equipped with a powerful pack of remixes from DuBeats, Matt Prehn and Nik Thrine. A classic flavor sampler, with a bit in there for everyone!
Artist: Oscar P
Title: a-ny-thing
Label: Staybad
Release Date: 2020-02-19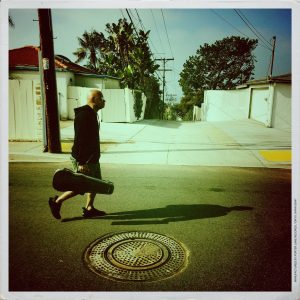 Interview with Oscar P
1.) Can you start us off by telling us a bit about your early upcoming and background into music?
I came Up in The New York underground scene in the late 80's, and 90's. My First house track I ever released was called Black Sax in 1988 on a small Brooklyn label. From there I did work on labels like Cutting Records, Freeze (Todd Terry's label), Strictly Rhythm, & Easy Street Records. Once I was established and things started taking off I started to expand to working with Virgin, FFRR, Junior Boys Own etc. London was the first city where my music was accepted internationally. Everything started with London. At the time they were really big on the NYC house sound.
2.) So you've got this new release 'a-ny-thing' dropping on Staybad, what can you tell us about the production process on this one?
I always start with drums. If the drums make your ass shake thats 50% of the track. Everything pops off those drums. After that it depends whats required….I'm a sample based producer, so I will samples sounds from different records and replay things off those samples. Even on remixes I will create new sounds from the original parts and replay a-lot of stuff. If I have a project thats more musical, then I have access to some talented percussionists and keyboards players who can help me get to any place I cant get to on my own.
3.) You're always staying busy, keeping a steady flow of top-notch releases dropping.  What's your ethos as an artist and producer?  
If you want to be successful don't work for just money. Think bigger. The work I have done for free over the last 20 years is what got me here. It built my resume. I know this because I have done it. Today I work on things that get me up in the morning. It doesn't mean you have to be a fool, and let people take advantage of you, but a great body of work will bring you money. Sure the bills have to be paid, but if you don't feel the project, don't take the remix gig. Believe me it shows in the work. People hear it and see it. Being successful in life means having Passion for what you do. Sometimes Passion can overcome talent. But you can't invent passion for your work. You either have it or you don't. I have seen talented people, way more talented than me not succeed because they have no passion for the game. If you don't respect the game, don't expect the game to respect you. Not everything works for everyone. There's no ONE way to succeed. Everyone is unique. Every situation is unique. You learn from people who are doing it. But what works for them, may not work for you. You have to analyze it, try a few things and see what you can apply to yourself and your situations.
4.) How do juggle all your responsibilities between being a label-head, prominent artist & DJ, and event curator, while keeping your sanity?
KEEP TRACK OF MY TIME! You can't buy time. Every week I have a system that sets up my work week. Mondays and Tuesdays are for distribution, contracts, and record labels. Wednesday mornings are for event promotions. Wed evenings and Thursdays are for studio production and remix work. Fridays to Sundays are for gigs, travel, or checking out events. I try to keep this schedule all year round. If I take care of the schedule, it takes care of me.
5.) Are there any specific artists (old or new) that you draw inspiration from in your music?
I'm influenced by everything. You can hear it in my music. Culture, Movies, Classics, Everything.
6.) What have you been doing to keep busy during the quarantine time?
Right now currently like everyone else I'm trapped in my apartment, isolated with my wife and wondering WTF is happening to this planet and how long this is going to last. The Uncertainty is what kills you. The economy is now at a standstill. I see many small businesses closing and many people will not be able to bounce back from this. It's very disturbing. To not go insane if you're a producer, you need to stay creative. Producers produce. 
7.) What are you most looking forward to re-opening once things return back to normal?
Live Events and touring. I was doing 50-100 gigs per year before covid. Also Access to more humans.
8.) What's coming up next for you that you'd like to plug here for the readers?
Right now, we are prepping the year, organizing releases on our Open Bar, and Kolour labels. Making sure everything is flowing in a positive direction. We have our West Coast Weekender event that we were hoping to be able to do this year or at least get back to local events this summer. Our syndicated radio show "Open Bar Radio" is currently working with stations in London, Spain, Germany and many other countries. Aside from that the best place to find me is https://oscarp.bandcamp.com/ 
Turn it up & enjoy!

Comments
comments