90s seminal dance icons D:Ream, are the dance collective who sat for a while very comfortably on top of the UK charts with a slew of huge releases. Original band members Al Mackenzie and Peter Cunnah are soon to release a full-length album entitled 'Open Hearts Open Minds' in October. The LP is jam packed full of joyous and uplifting, soulful pop house classics in the making. Bringing on board Black Science Orchestra legend Ashley Beedle and his North Street West crew to mix up 'I Used To Believe in Love'. We catch with Al Mackenzie ahead of the release when he tells about selling 650,000 copies a record back in the day, what D:ream have been up to since the 90s, and what made them bring back the band.
Interview with Alan Mackenzie of D:Ream
D:Ream was a huge names back in the day/  Please can you introduce yourself to our new readers.
Hi, I'm Al Mackenzie, one half of the band. Peter Cunnah, my partner is the singer and 'musical genius'! I write, produce and program with him.
You had a stream of massive hits. What was your biggest record? How many copies did it sell?
The biggest was 'Things Can Only get Better'. It sold over 650,000 in the UK, and in excess of a million worldwide. Not too shabby!
How long have you guys been away? Is this the first release for you in sometime?
We did an album in 20101 so ten years since releasing anything.
How does it feel trying to sell records today compared to you hay day?
It's hard work. We're releasing it ourselves and are not streaming it so we are reliant on our social media following and whatever PR we can muster up. We simply can't afford to spend the money that the big acts and labels throw at things nowadays, but have spent quite a bit getting it all together, so need to shift some of the vinyl and cds we've paid for. I'm, actually, delivering all of them from my home, some I am even hand delivering! It's not like the old days, that's for sure. Getting people to buy physical copies is difficult but we are confident we'll get there in the end. You can't beat having something in your hand rather than streaming a track or downloading it.
What have you guys been up to since the 90s?
We have been involved in the industry. Pete was writing for other acts and did a few records. He also taught song writing at a college in London. I run a club a called Retroforward. I foolishly bought a venue around 2004 which didn't go exactly as hoped. I have my own Field Of Dreams label which has done ok and release music under that name, amongst others. Lots of other boring stuff that kept our heads above water.
What made you get the band back together?
We didn't see each other for 20 years after I left in '93 then had a chance meeting in a park in London in 2009. We just thought it would be good to get back in the studio. We've been in touch from then, made two albums and done a few gigs, etc. We love doing it and that's the main reason for continuing. It's a personal thing and not about fame or that sort of nonsense.
Tell us about your up-coming album?
It's (honestly) the best work we've done. It is, essentially, a pop album but brings in lots of influences from our dance heritage, so there's a bit of Balearic in there, chuggy beats, house etc. We've gone back to basics in some ways, bringing back the pianos and strings like we used to. We feel the writing is strong on it and we've kept the songs short and sweet so the listener, hopefully, doesn't get bored. The reviews, to date, have been off the scale, which is really heartening. 
Talk us through the single – I Used To Believe in Love a little?
It's a hark back to the 90s classic house sound. Very Frankie Knuckles in production with the classy piano, strings etc. the lyric is reflective, kind of looking back on life and loves and where we are now. It's been going down very well with our followers and when we do it live.
How did you get Ashley Beedle involved?   What do you feel he has done to the track?
I know Ash from back in the day so just asked if he would be up for it. He's beefed the beats and bass up a bit and just added a bit of 'cool' to it. He's a very talented guy
Why did you chose Ashley Beedle for the remix?
I love his work and we needed someone who understood that vocal house vibe. I didn't want some chuggy, proggy remix that would lose that feel. It was really important to me that it was a classy sound
What else have D:Ream got in the pipeline?
Promoting the album and getting as many gigs as we can to get the word out. We're also doing a remix album-all 10 tracks remixed bespoke for that. We have some absolute belters in already, Tolouse Low Trax, Paddy Free, Justin Robertson, Sean Johnston, Sven Kossler & Dicky Trisco, amongst others are involved. I'm quite excited about that
www.fieldofdreamsmusic.bandcamp.com
-Alan Mackenzie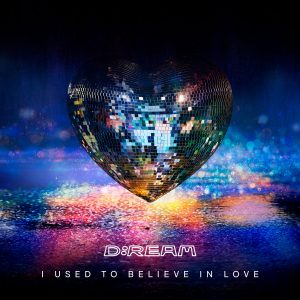 Artist: D:Ream, Ashley Beedle
Title: I Used To Believe In Love
Release Date: 2021-10-08
Comments
comments