Since launching in 2015, Sydney based Aaron Andrew's Chubby Records has become a well trusted Deep House imprint. Their long-awaited next release 'Various Volume 4' is perhaps their most expansive release yet, with four fresh cuts each with an accompanying remix stretched across two slabs of wax, with a who's who of some of the best names in house and techno.
Kicking off, Aleqs Notal goes deep on the immersive and hypnotic, 'Planetary Insanity'. His ultra-smooth deep Detroit styled techno laying a super solid foundation for the track. In-demand producer Life Recorder makes his debut on Chubby, turning the more streamlined original into a euphoric and optimistic dance floor gem.
Interview with Chubby Record's Aaron Andrew
Thanks for talking to us today Aaron. How are things for the good people of Sydney right now?
Hey all, no problems. Things are pretty slow at the moment with the current circumstances.
What's the landscape like with Covid? Are things starting to open alike to the US and the UK?
Lockdown over here, still yet to know anything solid yet. Currently in lockdown 5.
Are there venues that you think potentially may not recover?
Of course, a lot of businesses have failed & not just in the music sector.
Tell us about the music scene in Sydney? Would you say that there are multiple genres people are into and what are they?
When the scene is going, as of now there is a lot of stuff happening. From hip-hop to dance there's a big variety of music. Though, deep house has had a big decline i feel since the Curfews were introduced back in 2015. They lifted these but with Covid in place there hasn't been a good chance yet.
How big is the deep house scene in Sydney?
There's a few different scenes from underground, to big mainstream type of stuff. But as stated, nothing is happening here at the moment.
Would you say you have a music policy at the label? Or if it's good it goes?
No policies over here, we just stand strong on quality and are always working with the artists for the best outcomes.
Talk us through Various Volume 4 a little?
Various Volume 4 is a new release from us, follow our previous releases it follows a similar structure. Whereby original tracks were created and then we chose some great artists to remix them. With some background work, we craft the best music and everything else follows. There's a lot of strong underground sounds and some new sounds I'm keen to put together.
We will be premiering the opening track. 'Planetory Insanity' by Aleqs Notal. How did you guys hook up on this track?
Thanks a lot, we appreciate it. Aleqs and I had been speaking since his Podcast that he submitted for us. I loved his music and he delivered some great stuff on labels like Sistrum Detroit, Visions INC & Finale Sessions to name a few.
Chubby is a party as well as a label. Did the party come first?
Chubby has done some parties in the early days. That had been a lot of fun. I believe the music was the main idea and the parties were something to shine more spotlight on the other aspects of the stuff we can do. The music has always been first.
How long has the party been going? Tell us a little about the vibe?
The parties started not long after our first release, the vibes we tried to create were simple warehouse parties in a place where the music scene was being driven into the ground. We didn't pursue it as there were some political reasons that stopped music going later. Basically Sydney's curfew was back to the drawing board with the parties.
You have a chubby podcast series right. Tell us a little about that? Have you had any great guests you can highlight?
https://soundcloud.com/chubby-music/sets/chubby-podcast
The Chubby! podcast series was actually where it all had begun. As we were speaking with artists on socials, we ended up having them submit exclusive mixes for us and managed to get some great artists from all over the globe. This has led us into the majority of our releases with the artists that have done podcasts for us over the years.
Your previous releases have included some very credible names as well as some seriously high quality music. Looking at the roster on your forthcoming release, quality over quantity is important to you right?
Much appreciated, of course, like we said we have always put the music first. Everything else is second and a lot of fun.
On your compilations, how do you go about sourcing the tracks for the comps? Or does the music come to you?
The music comes through us as mentioned above but sometimes we do get some awesome people sending music too. It's always a fun process.
What other labels do you keep your eyes on?
Neroli, Visions INC, & Sistrum Recordings.
Do you DJ as well Aaron? Do you play across the board? Do you ever play disco?
I love to spin records, record sets, I dabble in production and just most of all, am on a constant search for new music.
What was the last record you bought? https://www.mothertonguerecords.com/product/theevolutionphasethree/
Various EP – 'The Evolution Phase Three' released on Alex Attias's label 'Visions Inc' back mid this year.
One of the greatest house records of all time? https://www.youtube.com/watch?v=CDWdRy2xsaI
Chris Gray – Tranquil Solutions
If someone wanted to get to know you personally a little, what album would be a good one to listen to?
https://boerecordings.bandcamp.com/album/definitive-transmissions-digital-release
A Recent one that comes to mind is fitting: 'Planisphere – Definitive Transmissions' released on the UK imprint 'For those that knoe'.
What artists in Sydney do you think the world should keep an eye on?
Jared Reyes appears to have a good sounds
What are thoughts on Spotify positive and negative on the underground house scene?
We're on the fence about it all. I currently still use Youtube as there is a lot of music that is not uploaded that we enjoy checking out. We believe its another great market to be ventured into.
If you could change one thing about the music industry, what would it be?
Push more Deep House but don't copy those sheep that continue using that standard formal that's popped up in recent years haha!
What does Chubby have going in in the pipeline?
Not too much in terms of releases but will be ongoing with the podcast series. We plan to continue pushing great deep music for the listeners.
Anything else you'd like to tell us about you?
Just keep pushing the deep peeps & stay true!
-Aaron Andrew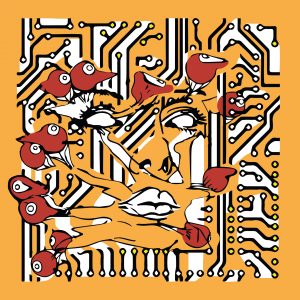 Artist: Aleqs Notal
Title: Planetory Insanity
Label: Chubby Records
Release Date: 2021-08-23
Comments
comments