Leave your troubles all so far away with Clarisse's first release of 2022. Unstoppable once again in the last 12 months with releases from Franklyn Watts, Dj Dep, EdiP, Angel Heredia, Gruuvelement's, William Marques, volumes 4 and 5 in the Clarisse all-star series and of course label head Mendo, Clarisse continues to push only the best global groove merchants, opening the new year with Germany-born, Jamaica-raised producer Melanie Ribbe and Brazil's Jonatas C.
'Yesterday' packs some vintage house vibes with its brisk 'House Nation'-style steps and vocals taking notes from 'Finally', 'Au Seve' and 'The Giver'. On six minutes of Chicago-born cruise control, Ribbe and Jonatas C keep things supple and minimal, easily elevating heart rates to push the party into peak hours. Mendo on the remix instructs computerised murmurings, reaching brainwashing levels in and out of the breakdown, to go to work on one of his famed funky bassline hula-hoops. Mendo simmers down the vocal into a spectral shimmer, as the straight up and down sunshine grooving comes with a tantalising edge.
A student of the London Academy of Music Production, Melanie Ribbe has realised a dance music dream first found in her childhood bedroom mixtape collection by becoming a must-see at Miami Music Week and an Ibiza residency at Amnesia. Ribbe's schedule is always on the go, whether performing at the scene's leading festivals, her productions moving up the Beatport charts, running her own Agape Muzik label, debuting her solo album, and showcasing what's hot across international radio.
In the Jonatas C fanclub: Amine Edge & DANCE, Paco Osuna and Stefano Noferini, all hip to the tech house sound out of Sao Paulo that's always advancing with new production and DJing technique and performance. Jonatas' standing is spread across imprints lead by King Street Sounds, Unnamed & Unknown and Under No Illusion, where he collaborated with Melanie Ribbe on the track 'Salinas'. It's a partnership sounding good for 'Yesterday', today and tomorrow.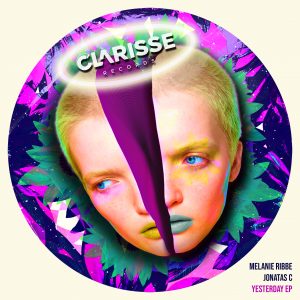 Artist: Melanie Ribbe & Jonatas C
Title: Yesterday EP
Label: Clarisse Records
Release Date: 2021-01-28
– jbravo
Juany Bravo
Managing Editor
jbravo@musicis4lovers.com

Comments
comments