The next release on Swerve Digital comes from the supremely talented & emerging UK talent Sam Girling, who we are proud to give a debut full release.
Sam Girling's sensational 'Hot EP' features two amazing originals and a powerful Luca Donzelli remix, showcasing just how much potential this 19-year-old Bedford based wunderkind has. Sam has taken to House like a duck to water with signings to a number of great labels and has an exciting future in the industry ahead of him.
On remix duties, the formidable Luca Donzelli provides a darker, growling version of 'Hot'. Keeping faithful to the original, he injects a hefty dose low end fury with propels the track forward. Choosing to keep the 303 motifs to a minimum, this is a track all about the power of a good groove. Dancefloor weaponry.
As calling cards go, this new EP is likely to see Sam's career skyrocket. You'd be a fool to miss out!
"Hot" (Luca Donzelli Remix) is out on May 31st, via Swerve Digital.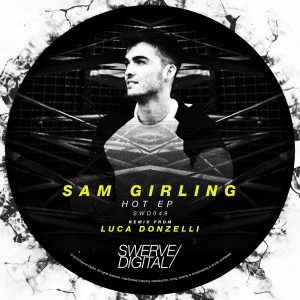 Artist: Sam Girling, Luca Donzelli
Title: Hot EP
Label: Swerve Digital
Release Date: 2019-05-31
– jbravo
Juany Bravo
Senior Editor
jbravo@musicis4lovers.com
---
Comments
comments