The next release on Swerve Digital comes to you via Irish talent Andrew Azara and Bahrain-based artist, Elléot. Having released on some of the biggest labels in the business between them, they come together to deliver their 'La Noche' EP.
The first of two potent original cuts, 'La Noche' blends a subtle Jackin' groove with wobbly analogue roughness underneath. Loaded with an intricate vox layer, acid-tinged sequencing and rippling soft synths, the track boasts a delightful fusion of rough and smooth -with emphatic percussion and a robust low-end.
Going solo on 'Amor', Andrew Azara completes the release with a delightful Deep House bopper. A rolling bed of bass offers a pleasant contrast to the dreamy pads and light synths. Another track with feel-good melodic presence, huge atmospheric spaces and attention-grabbing main segments.
Andrew Azara & Elléot's 'La Noche' EP is out on July 31st, via Swerve Digital.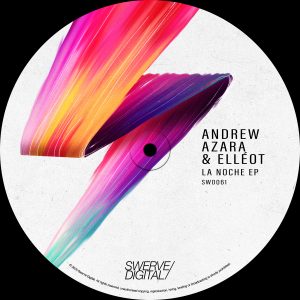 Artist: Andrew Azara
Title: La Noche EP
Label: Swerve Digital
Release Date: 2020-07-31
– jbravo
Juany Bravo
Managing Editor
jbravo@musicis4lovers.com

Comments
comments