We caught up with Italian DJ, producer and label owner Manfredi, the man behind the Beautiful Sinners project to discuss his new record and more.
---
Manfredi, welcome to Music is 4 Lovers! Through your career as an artist and label owner you have cemented yourself as an innovator in the Italian house scene. What was your first experience of dance music in Italy? What drew you in to follow it as a career?
Hi guys, and thank you so much for this interview ! My first experience with dance music, indeed I dare say with electronic music in general, was when I was still a boy, around 12 years old. I'd say the 2008 Dancity festival was my first experience. Later on, going to the Red Zone Club, Perugia's iconic nightclub, was a really important part of my development.
Your signature style is warm, melodious and rhythmically enchanting. Where does your inspiration come from when you write music?
I tend to try to approach production in a very personal way and try to bring the emotions and sensations that I've experienced into music. I don't like to create "impersonal" pieces. On the contrary: I try to involve the listener emotionally. My goal is to make music that can stand the test of time.
Not only have you released music under your own name but also under your Beautiful Sinners project. What is the concept behind this project?
The concept behind the Beautiful Sinners project is diametrically different from previous work. More than on a stylistic level, I'd say that the difference with previous releases is thematic. The pieces are distinguished by Black influences as well an "erotic" flavour, which I try not to let become vulgar.
You kickstarted your Beautiful Sinners project with the instant classic 'City Of Lights' which has now been reworked and is releasing soon. How does this take differ from the original?
The original 2013 version was heavily inspired by the rich Deep sound out of Berlin that marked my early career, and Martin Roth's remix from that time is still a symbolic piece today.
The current version, on the other hand, I think is much more of a cosmic trip, much more English; which is the genre I like best.
The single features the beautiful vocals of Swedish singer Sanna Hartfield. What is the significance of fusing vocals and electronic music for you?
For me it is fundamental to increasing the level of engagement; in "City Of Lights" Sanna manages to bring a narrative to the visual image that I tried to bring with the sound of the piece.
The original single got remixed by a number of artists including the house legend Todd Terry. What was it like having such a core innovator of the genre remix your music?
Without taking anything away from the great producers and DJs I've had the honour of working with, being remixed by Todd Terry is one of the greatest things that's happened to me during my career and my life. 
One of my earliest contacts with house music (and with the brilliant MTV Party Zone programme) was the video of his remix of "Missing" for Everything But The Girl.
It was an experience that taught me a lot and which I consider fundamental in improving also as a producer.
As well as being an established artist you also run Night Vibez Records. What have you learned from the experience of starting and running label?
I can definitely say that running a label is a fascinating experience, no matter how long it lasts. The initial difficulties come from having to break into the market, and I can assure you that trying to bring a product "out of the box" is a bit frustrating at first. At the same time, it is very hard to manage expectations when the project starts to take shape.
But I can say that one of the most important things I've learned over the years has been to always remain true to myself and to listen to people with more experience than I have.
What music can we expect to see on your Night Vibez Records imprint?
Night Vibez Records is distinctive for electronic dance-oriented music outside the classic market canons; the label draws a lot of inspiration from the Deep music of the late 80s and 90s, but without falling into imitation.
What do you see on the horizon for your Beautiful Sinners project?
I can't talk about it too much yet, but I can tell you that there will be a project involving a legendary American Soul singer and that you'll see other top remixers
---
Beautiful Sinners feat. Sanna Hartfield 'City Of Lights [The Circle Rework]' is out now on Night Vibez Records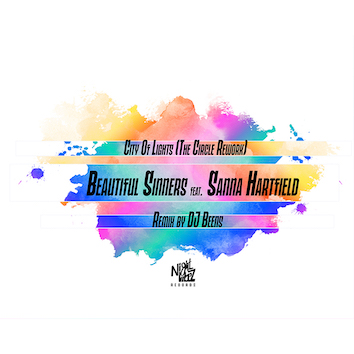 PURCHASE HERE
---
Follow Night Vibez Records on 
Facebook | Instagram | Soundcloud
---
Comments
comments