Detroit-based Thomas Barnett is the man behind 'NudePhoto' which was widely regarded as the first Techno track to set the world aflame and is also the head honcho of Visillusion which was launched in 1995. This multi-faceted artist is a frequent collaborator with Jakarta-based Ecilo whom stepped on the scene back in 2008 to share his love of Techno music.
We caught up with Thomas Barnett and Ecilo to hear about their exciting new release 'Low Tech Funk' on Barnett's Visillusion imprint, the story behind both artist's collaborations and upcoming projects.
---
Going right back to the beginning, how did you guys meet and start working together?

Thomas Barnett: Reza aka Ecilo began sending me demos after we kicked of a friendship from chatting about techno history and drama online, then we began discussing production techniques, which lead to him sending tracks for me to check out. Many were pretty good, and the quality improved more and more over time and soon I would offer more feedback on certain tracks, after that it wasn't long before we felt that we had something solid to share to the world.

Your label Visullision kicked off in 2018 – what spurred this on?

Thomas Barnett: A couple of years before that kick-off, I re-started the vinyl label which had its first releases in 1996. It was time to catch up with the times! 

A lot of producers avoid starting their own labels and focus on releasing on other imprints – what is it about releasing your own music yourselves that is important to you?

Thomas Barnett: Control, from the beginning until the end we can be total control freaks about everything and if something doesn't work we can only blame ourselves.

'Low Tech Funk' sees you appear on the same release, but independently producing tracks. Can we look forward to any studio collaborations between yourselves (and if so/not, why?)

Thomas Barnett: Absolutely! We have a collab in the catalog and quite a few in production at the moment, especially with some harder techno themes that we are excited about. 

Ecilo – you're based in Jakarta – I'm keen to know more about the techno scene there and whether any local scenes influence where you're coming from?

Ecilo: Techno and House scene in Jakarta is growing with a lot of emerging talent. My influences come from all my friends that introduced me to electronic music from an early age. 

Thomas, as you've been involved in techno from it's early days as well as a Detroit resident, what are the differences between how the city, your environment, influences you compared to how it used to?

Thomas Barnett: So many things are very similar, I'd say, like the hunger to create something a little different than before, the other-worldly concepts still seep into the creative process, but what seems to be mainly different is that I don't always have the TIME to work on tracks for hours or days endlessly like I once could… I may pay a little more attention to "trends" these days so I can avoid them if at all possible, back then I don't think I was aware enough about the market and created much more in my own bubble. But my closest friends accuse me of still doing just that (laughs).

Visillusion has so far been you guys – are you planning to release output from other artists?

Thomas Barnett: We have plans for a few artists coming in the next few releases, Mathieu Sugar, Cloudmasta Weed, & NVNTR, all 3 with their own unique style that enhances our label's repertoire. 

What's next on your to do list, as artists?

Thomas Barnett: Hopefully when this lock-down is lifted from the global pandemic we are dealing with, we will be able to do some touring together and give an energetic twist to the tracks, up close & personal. But before that, we plan to introduce 2 sub-labels, Subterfuge, a harder more Euro-ravy sound, and Groove Slave, for the housey deeper stuff… featuring our new additions to the roster (mentioned above) as well as our own productions, of course.
---
Thomas Barnett & Ecilo 'Low Tech Funk' EP is out now on Visillusion.
Purchase / Stream here: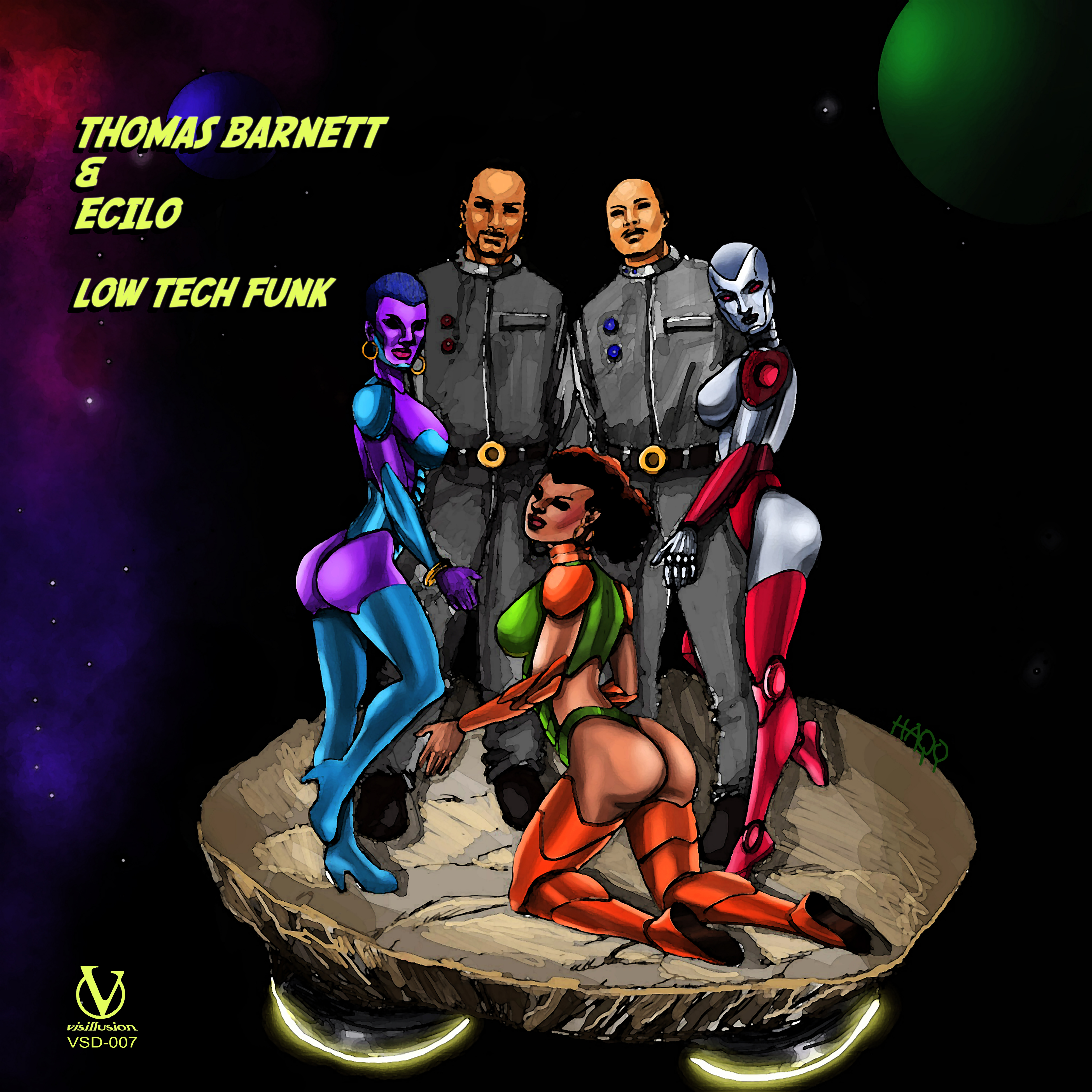 ---
Comments
comments