With summer kicking in full swing, CODA nightclub welcomes a month of techno with a hot lineup of both local and international artists this June. Toronto's Alfa State headlines this Saturday June 1st, followed by techno titan Wehbba – June 7th. UK-techno master-mind Latmun will grace CODA with his infectious grooves. PAWSA will make his way on June 14th, with his renowned old school techno, while  Inventive and extraordinary musician Atroxx will be performing on June 15th, to bring in driving techno and vibrant melodies to the dance floor. CODA will also feature a Pride Weekend special, with two glamorous parties happening from June 20th-22nd, so get your favourite sparkles and costumes ready!  Also, be sure to keep an eye out for back-to-back performances from UK legends Rēbuke and Mason Maynard, as they ignite the dance floor on June 28th. Come enjoy inventive, groovy and industrial techno, at CODA!
Follow CODA
Facebook | Website
---
Saturday, June 1 – Alpha State
Emerging out of the successful music duo Nature of Music, Mazi dives into his solo career as Alfa State, bringing in exclusive performances to kick off the month of June at CODA nightclub. Like his previous music, his tunes are graciously intertwined with mesmerizing tropical beats and soft synths. Be prepared to groove along to his carefully curated tracks because no matter what venue, Alfa State always manages to place the crowd in a peaceful trance and leave them dancing all night long.
Doors Open: 10:00PM
Supported by: Borella, Wess
---
Friday, June 7 -Wehbba
Hailing from Brazil's vibrant electronic scene, techno producer Wehbba returns to Toronto to kick off the month of June at CODA nightclub. Wehbba has released music on labels like Tronic, Systematic, Bedrock and notorious to performing in exciting venues like Tomorrowland and Lalapalooza. He is considered a wizard in the studio, with dozen of singles to his name. Especially in his last two EPs, Eclipse and Cartarse, which both feature four tracks that promises to bring high impact energy and urgency to CODA's dance floor.
Doors Open: 10:00PM
Supported by: Addy, BBLK, Jackie Spade
---
Saturday, June 8 – Latmun
The UK-based techno mastermind will be gracing CODA nightclub this June. His sounds have made him an exceptional performer, and he continues to make his mark through creating a unique interpretation of tech house soundscape. Both his DJ sets & productions have coherent energy and infectious grooves, which has captivated crowds worldwide. He has made regular appearances in acclaimed venues such as Ibiza's DC10, Manchester's Warehouse Project and many more. Celebrate with Latmun as he creates divine moments and memories on CODA's dance floor.
Doors Open: 10:00PM
Supported by: Greco, Butrous
---
Friday, June 14 – PAWSA
Admired for the old school vibe he brings to his techno, London-based producer PAWSA is ready to shake Toronto with his inventive music. His success skyrocketed after releasing a bonafide EP on the renowned Lost Records in 2014. PAWSA's latest EP 'Stage Two', is decisively made for the dance floor. After performing at Ibiza and esteemed clubs around Europe, PAWSA will finally be spinning his creatively  curated and atmospheric sets at CODA.
Doors Open: 10:00PM
Supported by: Sven Lochender, Mikey Palermo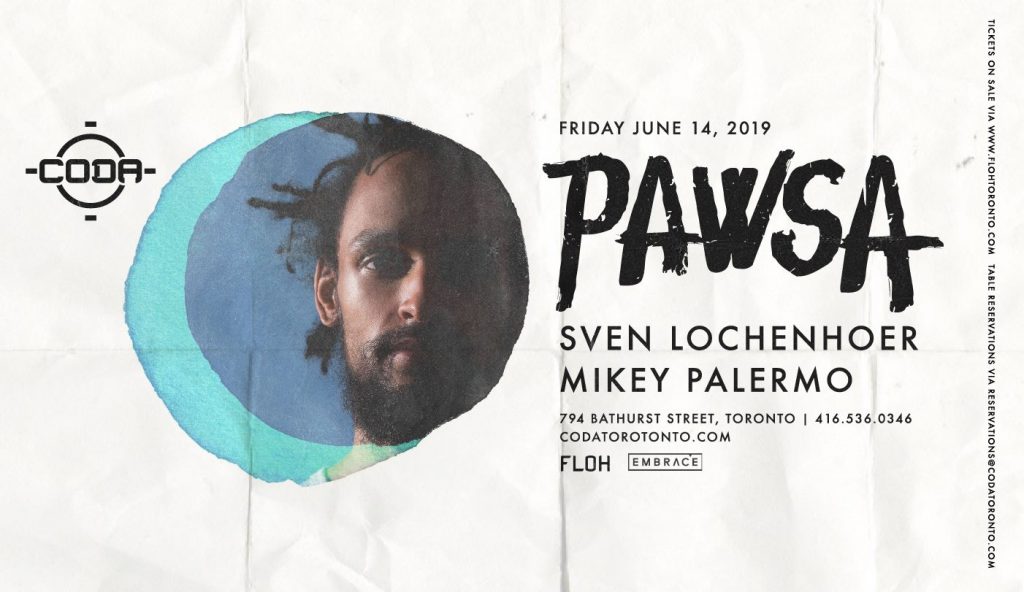 ---
Saturday, June 15 – Atroxx
Atroxx brings his extraordinary bass-lines to CODA this June! His unique brand of heavy, driving techno keeps the energy on the floor at an all-time high. This artist's sounds are crafted from his influences from iconic artists like Slam, Victor Ruiz, and Robert S. A lifelong musician raised by a musician, making percussion run through Atroxx's blood. He will be bringing his aggressive, industrial style bass lines and vibrant melodies to create a soundscape so ear-pleasing. Expect nothing less than crushing techno on this eventful night.
Doors Open: 10:00PM
Supported by: Spencer Dunning, Jay Force, Matt Griffin
---
June 21-22 – Brother & Boner: Sparkle Party (Pride Edition)
Brother is a costume party and a celebration of creativity. Hosted by Boner & Brother, this year's pride theme is set as Sparkle Party. They will be welcoming DJ Jeremy Khamkeo & Deko-Ze, who will be spinning tunes all night for this weekend affair! So, be sure to cover yourselves in diamonds, crystals, rhinestones, and everything else that sparkles for a fabulous night of fun at CODA.
Doors Open: 10:00PM
---
Saturday, June 22 – Prism: Sweat (Pride Edition)
As a continuation of the Pride Weekend celebrations, Prism presents Sweat, a steamy part at CODA nightclub. In association with Prism Airlines, the hosts promise to make this the hottest party destination for anyone this month! International DJs will be invited to spin tracks, such as Brazilian-based producers Mauro Mozart Andrade and Renato Cecin. Canada's own Cajjmere Wray will also be present, performing his fusion of techno and house tracks. So dance till you drip because Prism promises to take you on a crazy trip!
Doors Open: 10:00PM
---
Friday, June 28 – Rēbuke x Mason Maynard
Rēbuke is a legend for his elusive fusion of 90s house, techno and rave records. He'll be bringing back the heat to Coda's dance floor, along with Manchester DJ, Mason Maynard. Maynard, only being a young age of 22, has already performed in iconic UK festivals and was named the "One to Watch" by BBC Radio 1. Likewise, Rēbuke is truly a high caliber artist, working on his own rave series and renewing the concept of old tech. Both artists rack up quite the reputation and are finally ready to spin their signature styles at Coda.
Doors Open: 10:00PM
Supported by: Chris Larsen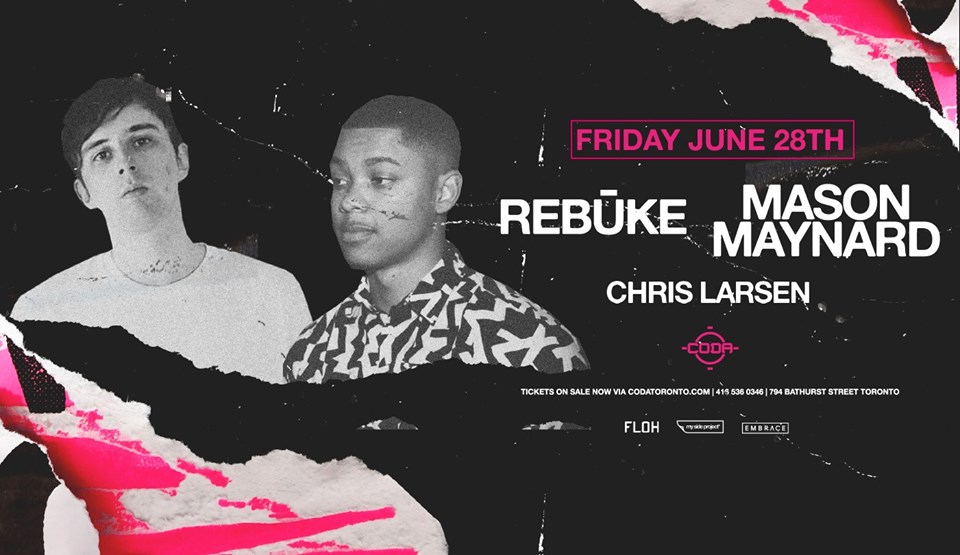 Comments
comments