Deep In India Volume 8 is a new compilation by Todh Teri, the unidentified being who's known for his groovy disco edits from the Indian subcontinent. This particular record features two of his fellow beatmakers, Kone Kone and United Machines as they add their personal touch to selected tunes from the yesteryears.
Todh Teri flows into a classic tune in Sampadan 28, with elements of jazz that fuse well with the disco spirit of this record, as he pays a tribute to one of the greatest Indian music composers.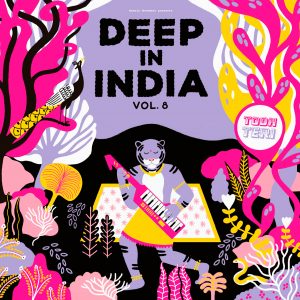 Artist: Todh Teri
Title: Sampadan 28
Release Date: 2020-01-08
Interview with Todh Teri
1.) Who is Todh Teri?
The less one knows, the better it is. The message and the vision is more important than the person creating it. Todh Teri is, you can say, like a shopkeeper who is revamping the old & forgotten music in brand new packaging and offering it to the global audience. For some it is nostalgic and for some, it is something "new" from the past. There's something in there for everyone, for the young and the (g)old.
_______________________________________
Todh Teri (noun) Origin : Hindi/Urdu
(to-rh tey-ri)
________________________________________
todh: break
teri: yours
"If said aggressively, it can imply "I'll break you". Although in this case, I'm only breaking tunes!" – Todh Teri (2019)
2.) Tell about your new Record?
Deep In India Vol.8 leans towards the undiscovered gems from the golden era of Indian Cinema, while featuring two of my dear friends: Kone Kone and United Machines. Honestly, there is no history about the release. Rather I hope that this release makes history!
Link: https://linktr.ee/todhteri
3.) Who are your greatest influences?
Everyone and everything around you is influential when you are creating any form of art. I believe my lifestyle as a whole is a catalyst for the art that I create – from food to practicing yoga and even my sleeping patterns. And course the goddess of knowledge and music: Saraswati, whom I worship and find inspiration in.
Besides that, some evergreen old-school Indian artists like Biddu / Bappi Lahiri / Ilaiyaraja / Laxmikant Pyarelal / Kalyanji Anandji have had a strong influence on me.
4.) Please tell us about the electronic scene in your City. What artists
do you love past and present that have inspired and encouraged you
and what parties that you love going to have helped your musical
evolution.
I am a global citizen hence it's hard to answer this question. Every city I spent / spend time in encourages and inspires me differently. I like social interactions when it comes to good food and listening to records at home. Going to parties is not really my cup of tea since I've been a part of the nightlife industry for the last 23 years; I guess it saturated at some point. However, I do have to admit that every experience I've had when I do go out or interact with others, has given me an idea or vision on how to create a track that would be perfect for that moment on the dancefloor. This is how I usually approach my music, by keeping certain crucial moments and memories from my gigs in my thoughts, which kind of gives "the right feel" to the tracks.
5.) How have you been keeping busy during lockdown?
Experimenting! In the kitchen and in the studio. Been working on music and as well as cooking some wholesome meals at home.
6.) What else can we expect from Todh Teri over the next year?
I wish I knew the future! But I sure am looking forward to good things.

For more info please check:
Facebook: https://www.facebook.com/todhteri
Soundcloud: https://soundcloud.com/todhteri
-Todh Teri
Turn it up & enjoy!

Comments
comments