Smoove & Turrell have never been scared of a gamble or two and over the course of their career, and their latest album – 'Stratos Bleu' marked some of the biggest stylistic changes to date. Though long lauded as one of the UK's top bands in funk and soul circles, their album was a decidedly rawer analogue affair drawing on influences as diverse as Detroit techno, Bristol bass as well as the party starting breakbeat funk they are so well known for.
Hitting #1 position in the Official UK Dance Charts on release week, and grabbing the Album of the Day accolade from BBC 6 Music proved the band were entirely right. Given the strength of the source material it was only right to issue a remixes album on the project and there was no shortage of producers lining up to get involved.
Dance luminaries including Hot Toddy, Ray Mang, Ashley Beedle, Steve Cobby and Dutch electronic powerhouses Fouk all signed on immediately. But giving the album a more home grown flavour there's also a slew of North East acts including hot rising talents Sorley, Rayka, Vandebilt, and Twin Beam, finishing off this talented crew are DMC finalist – DJ Krash Slaughta, Smoove & Turrell's label mate and fine funk purveyor – Dr Rubberfunk, and of course the man himself Smoove.
Stratos Bleu Remixed is out 10/16/20 on Jalapeno Records
Artist: Smoove & Turrell, Dr Rubberfunk
Title: Stratos Bleu Remixed
Label: Jalapeno Records
Release Date: 2020-10-16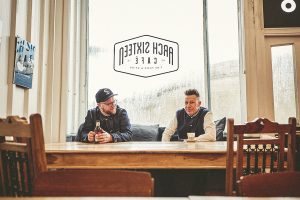 Interview with Smoove & Turrell
1.) Thanks for talking to us you guys! We've seen a lot of activity from you these last few months with remixes from you 'Stratos Bleu' album. For our readers who aren't familiar with you, tell us who S&T are?

We are known ultimately as a Soul band but we fuse electronica with funk and hip hop our sound is a lovely big northern soup of everything we love.
2.) Where are you all from? Who does the band consist of? How long have you been going?

We all hail from the North East of England, we first started in 2008 as a duo (Smoove, DJ / Producer and John Turrell Singer/Songwriter). After quickly getting Mike Porter in on keys we progressed to become a full 6 piece band which now consists of Oscar Cassidy (drums), Lloyd Wright (guitar) & Neil Harland on bass. Over the last 10 years we have written and produced six albums on Jalapeno Records.
3.) You've got a pretty strong following already. How did this begin?
To be honest we've always worked extremely hard, we knew we we didn't have a huge budget to get our music out to the masses via big campaigns so we put in the hard miles and grew our following from making our performances the best we could possibly make them. Word of mouth is still one of the greatest things going. We were always confident that the more people that came to see us the more the word would spread. Of course we had some great champions on national radio as well such as Craig Charles and without that we wouldn't be where we are but it's using that help to get out there to connect with the fan base that grew us as a band.
4.) Stratos Bleu the album title and the artwork scream 70s. What it the title about?

We wanted something that could hook our older fans with a memory and simultaneously confuse our younger fan base, a bit of an in joke. It was also one of the first aftershaves we nicked out our dads bedrooms when we first started clubbing. Like all our musical journeys Stratos Bleu has one foot in the past and another foot firmly in the modern world- it's a dance album at heart that calls on our influences to retain our soulful sound.
5.) Your tracks are very lyrical. Who does the writing? In particular Elgin Towers seems so poignant. What is the track about?

John writes all the lyrics for S&T. Lyrics are everything to him, they always have to have a meaning. Elgin Towers harks back to the working class housing estate in Gateshead where John grew up. It's about how you don't need everything in life to have that perfect day with people you love. How money and power corrupts so much of what we do now.
6.) When you start on a new track, do you have a creative process that you follow? What is it?
A new track can be born from virtually anything – a drum beat or a guitar riff, John might have a few words scribbled down in his note pad that can spark an idea. We once wrote an entire tune in one day from one chord sample. We are very lucky to be working with some of the greatest musicians in the North East as each members of the band co-write with us and also submit their own sketches and ideas which sometimes go on to be developed further by Smoove. John likes to get the correct tempo and key to fit with his words as early as possible as this can also effect our live performances at a later date.
Working with samples is a lot of fun too which can spark brilliant ideas but these days we like to either, replay parts or just take inspiration as the legal costs can be problematic.
7.) You seemed to have picked up a lot of radio support in particular Craig Charles. How did that happen?

Craig has incredible taste in music there is a lot more to him than meets the eye. We all just clicked from day one. Craig totally fell in love with a song we wrote called Beggarman and he championed it in all his sets. He was that special person that every band needs playing an integral role in promoting us in his BBC6 show and his live gigs. He's ended up being a great friend to all of us and somewhere along the line he's ended up being a firm member of the S&T family.
8.) You were due to go on a huge tour prior to this album. How do you feel the original album and the break- out singles from the remix album have performed without the tour?

We have been absolutely blown away by the response from everyone. The Album has really caught people's imagination. The style and lyrical content has seemed mesh in with what's been happening in this extreme time. It's been lovely seeing the album gain so many plaudits such as BBC 6music's album of the day and the album going in at No1 in the official dance charts but it feels like we and our fans have somehow been robbed of the great nights we would have shared together off the back of it.
We were always planning the remix album before any of this even happened so it was lovely to know the album was being so well received. The remix album is yet another way of playing with the original material extending the life of the album without watering it down. We are so pleased with who we chose to work with. The imagination and breadth of work they have turned in has took it out of this Stratosphere haha !
9.) Your remix album is soon to drop in October, with an army of high- profile talent. How did you get them all on board?

Quite a few of the artists have already worked with us in the past, so to start with it was basically about pulling together a strong core of musicians that we loved. We had a zoom meeting with our label and we all threw a few names into the mix and the job was done – It was really as simple as that. A few weeks later the mixes started coming in and we were blown away by all of them, all killer no filler!
10.) Is there a particular artist that you'd like to collaborate with in the future?

Chaka Khan !!
11.) If Covid hadn't struck, your publicist says you would have been on a stack of festival stages this year. How are you keeping yourselves motivated from a 'live' perspective during lockdown?

We present a radio show called The Northern Coal Experience every week, it first goes out live on Facebook and then onto Totally Wired Radio, 1BTN and soon Brooklyn Radio. That's kept John going as he likes to have a beer in a Friday when we do the show.
Smoove has had a few remix jobs in so that's kept him sane. We have managed to do a few socially distanced gigs which has been really nice but overall our tour has been put forward to 2021.
12.) Stratos Bleu has been the album that just keeps giving. Is this the end of you rinsing it when this remix album drops?

Err actually we have the acoustic version to drop early next year x
13.) What's next for Smoove and Turrell?

Write our 7th album and release it in 2022 tour the world again x
-Smoove & Turrell
Turn it up & enjoy!

Comments
comments