Daino is a key player in Lisbon. A producer and a DJ, Costa is a professional keyboardist, music teacher, sound engineer and freelance composer/sound-designer for videogames.
With a few releases under his belt, Daino debuts in vinyl format with "Crescendo", a certain future classic. Three originals and a remix, perfect for DJs who love emotional intensity and a discerning floor. If you love Los Hermanos, Mike Grant or Mr.G… but also Jovonn, Tony Humphries or MAW, then "Crescendo" is right for you.
It defines modern deep house with a deep respect for it's classic institutions. The Detroit style house of What U Need, the epic and piano driven synth disco of Quiescence, the gospel party breaks anthem found in Glory. All amazing tracks with pristine a production rooted in jazz-funk.
"Quiescence" also gets flipped by Chicago based Andrew "Change Request" Emil, turning the effusive original into an amazing burner that builds forever until it's climatic resolution.
All vinyl copies are hand painted by Percebes artists, there's no two that look the same (every record a unique work of art). Percebes is backing it's claim to be at the forefront of ever-valid deep DJ material, don't sleep.
Quiescence is out on 5/11/2020 on Percebes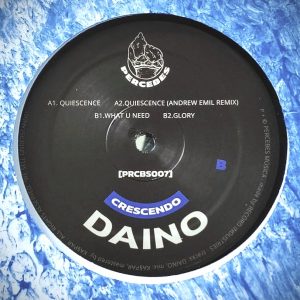 Artist: Daino, Andrew Emil
Title: Quiescence
Label: Percebes
Release Date: 2020-05-11
Turn it up & enjoy!

Comments
comments