Born and raised in Argentina holding over 15 years in the making of house music, our latest studio feature comes from Manuel Sahagun.
Manuel is considered one of the most relevant artists in Argentina's house music scene. Throughout his career he has earned the respect of several DJ generations and producers, and has brought his music to world cities known for their electronic music scene.  His extensive discography both in vinyl and digital has received support from names like Danny Tenaglia, Laurent Garnier, Doc Martin, Stacey Pullen, Andhim, Tale of Us, DJ Sneak, Miguel Migs, Mark Farina, Slam, Inland Knights, James Zabiela, DJ T, Art Department, La Fleur, Claptone, Adana Twins, Kolombo, Pete Tong, amongst others.
His latest, La Terre EP is out Friday Nov. 26th on Lazy Days Recordings!
Ahead of this stellar release, we got a chance to peer into the work-space of this magic maker!
---
Roland Juno 106
This has to be my favourite synth in my studio. I've been crazy about it for years, looking for one in good shape. I was using all sorts of virtual emulations so it was very easy for me to use it when I finally bought mine. I can program classic basslines, leads and stabs with it, but I guess the most fun part is pads. From time to time I still use the Togu Audio Line virtual synth, which is great, but when I have to record long pads/strings the Juno is my go-to!
For a long time I had this idea of saving for a Prophet synth but I had many friends who suggested I take a look at the new Novation Peak and I was so impressed with it that I had to buy it. The wavetable oscillator with the analog filter allows me to create very interesting sounds but also very simple "analog-ish" patches. There are many virtual synths that can create these kind of sounds but the fact that I can access most of their parameters with knobs and faders makes it an unique tool in my studio.
As a DJ, turntables are an important piece of my gear. Even though I cannot make music out of them, I have connected them to my audio interface and from time to time I sample old records. I love when I produce a track and there is a particular story related to the sample and where I bought the record, etc.
Even though it's not the kind of equipment you usually require to make music, when I was getting new gear in the studio I realised that I needed something to improve my workflow. This desk allows me to have everything in the right place. I was able to rack many of my synths (Pro-1, Roland D550, Model D) as well as the patchbay and my beloved audio interface RME Fireface UC. Everything is organized: no cables on the floor and enough space for my cup of coffee, controllers, etc.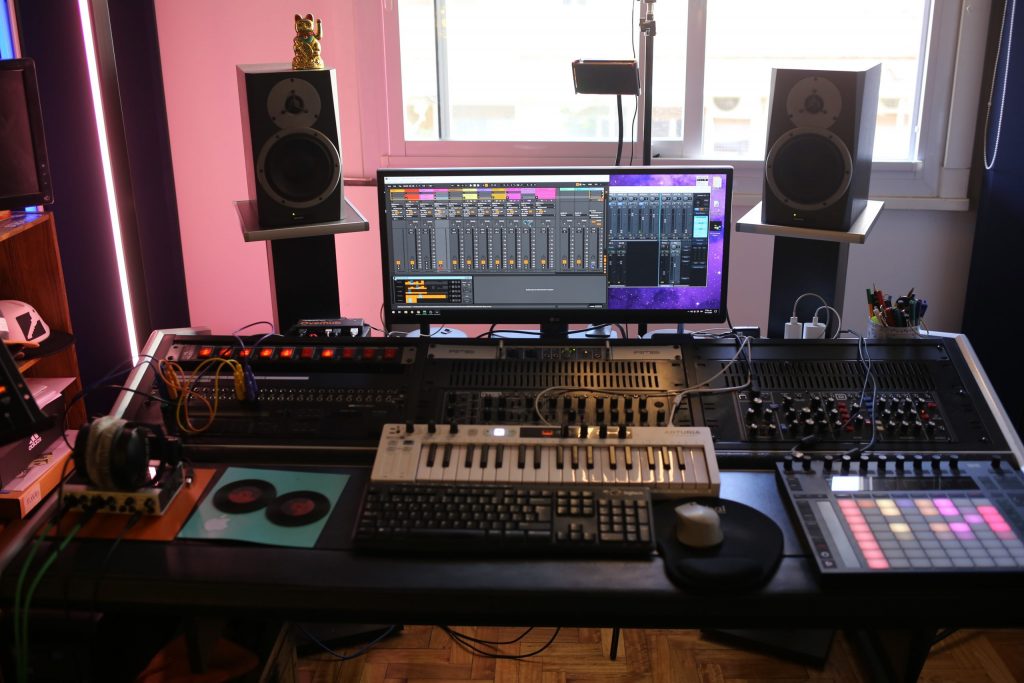 In my early stage of production I was an FL Studio producer. I think I started with the old Fruity Loops 2.0 or something like that and I got to a certain point where many friends were asking me to teach them how to produce but they all wanted to learn Ableton Live. Slowly I learnt how to make it work and after a while I was an advanced user and a big fan of this DAW. I still have FL Studio in my heart but I cannot go back. Ableton is so fast and easy to write new ideas.
-Manuel Sahagun
Turn it up & enjoy!

Comments
comments