Hard Times Records present 'All I Need', a powerful, slab of house music positivity that smacks of 'first anthem of the year' vibes and comes courtesy of one of house music's biggest pioneers AND a certified UK House music institution that permanently changed the face of global club culture over 30 years ago… Steve 'Silk' Hurley and Hard Times.
Hurley is a certified legend. As one of the pioneering House music artists to emerge from Chicago's primordial 80s phenomenon and the first ever to score a UK number one Hit with 'Jack Your Body', the multiple Grammy nominated artist has been a powerful source of energy and inspiration ever since as one of the most consistent forefathers of this scene.
Timeless yet forward-thinking, loaded to the brim with precision groovemanship, glazed with a strong Latin twist and sprinkled with the gorgeous vocals of Sara Garvey, who many will instantly recognise from her Nightmares On Wax collaborations, 'All I Need' is a pedigree house anthem-in-waiting. Universal in vibe and spirit, fully transcending trend or flavour-of-the-month fickleness, this taps into the source and has full potential to be the first big boundary-breaking house hit of 2023… 36 years after Steve 'Silk' Hurley topped the charts with 'Jack Your Body'!
It comes complete with a rainbow of remixes from some equally eye-opening heavyweights: Alex Arnout, Eddie Leader, Terry Farley & Kevin Swain and DJ Skip (who runs S&S Records with 'Hurley) all provide different perspectives on 'All I Need', giving it even more scope and depth to slap us simultaneously.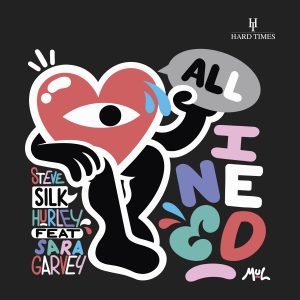 Steve 'Silk' Hurley ft. Sara Garvey 'All I Need' is OUT NOW on Vinyl.  Digital drops on April 7th.
Follow HARD TIMES via – Facebook  –  Instagram
Comments
comments