For his third album, Sky Islands, Jacques Renault decided to create an action-packed set inspired by the classic DJ megamixes that were once a huge part of dance music radio in his home city of New York. It's a simple idea, but one he's executed beautifully. It plays as a continuous mix on each side of this vinyl version, with the Let's Play House co-founder using at as an opportunity to flit between short tracks that variously touch on quick cuts built around rescued disco breaks, heady loop-house, sweaty percussion workouts, proto house, Bobby Konders style deep house and sleazy, basement-ready club jams. It's very dusty and sample-heavy, but that's kind of the point: this is an excitable, energetic concoction that's more about the finished product than the short and sweet individual tracks.
Interview with Jacques Renault
Let's Play House was founded by Jacques Renault and Nik Mercer in 2009 as a roving party that moved from dingy warehouse to hotel penthouse clubs throughout its hometown of New York City. In 2011, the label arm began as an extension of the club nights. DJ and producer Jacques Renault is about to release his third full-length album 'Sky Islands' on his home label and on this bumper collection he explores his craft through the format of the classic late-night radio megamix. We talk to Jacques ahead of this release.
You're based in Brooklyn. How you guys doing there now?
The people of Brooklyn are back at it, at least in my neighborhood. Since business have been opening up again it's cool to see the transition into normalcy but it still feels weird to me. My family has been staying safe and healthy so we're starting to see friends again slowly easing out of hibernation.
What sort of events are happening in the city?
I've played a few times at Nightmoves which has been special, and I couldn't be happier about being there back in the zone around this crowd. Events are happening at quite a few of the venues so the energy is high from what I can see.
What would you say was one good thing about lockdown?
The birth of my daughter has made this an epic year! Being in lockdown as a family of three has been sort of a blessing in disguise. I can't imagine it any different, we would have been spending all this time together anyways. I did have some time to myself to work on music, but I focused on becoming a new father and deepening my work as a husband.
Your third album 'Sky Islands', which is dropping as we speak, was this produced over last year?
Yes, all of the music on the album was finished this past year. I had a stretch where I was working for an hour every night tightening and finishing a track to a point where I could share it with Nik. We sorted through them all and landed on these 23 that are presented.
Completely refreshing to hear this hi-octane release inspired from the classic 90s megamix. It's quite a head rush! What is the history of the megamix?
Thank you for saying that! Radio DJs were big with megamixes, and I was always fascinated with the Big Apple medley 12-inch series that was put together from hits from the 80s. They would put together 40+ tracks on a side and I thought it was something else. Head rush indeed. I always thought it would be neat to do something similar but with my own music. Nik and I chatted about different ideas with short tracks for years and when Record Store Day proposals came up with our distributor, we thought this was the time.
Loads of skill involved in quick selection, cutting, mixing, looping tracks that fast. It's a massive display of skill, right?
Very true, turntable mastery and plenty of thought goes into it.
What do you think was the best 90s megamix ever made? Got a link
Probably the Big Apple Vol 1 from the 80s I mentioned: https://www.youtube.com/watch?v=fnQjMM7g3U4 or the Mach one, too: https://www.youtube.com/watch?v=5AkPvYD-LCY&t=1s Plenty of tape cutting and layering going on.
Who were the DJ's who were the biggest and the best at it?
Listening to Tony Humphries radio mixes for example are staples but seeing turntablists live was something else. I saw a few competitions in the 90's but friends had videos with people like A-trak and DJ Craze that were just nuts.
What made you want to produce your album in this format?
I wanted to do something different that could be heard wherever. In the club, at home or on the go. I tend to stick to my process when making tracks, so it felt like a good time to step out and try something else.
When you recorded the album, how did you make it a mix? How many times did you have to do the mix before you got it right? Or was it a one-time thing?
I had several takes and there were plenty of misses! I tightened it up using Ableton.
The album has an almost vintage feel, was that your intention?
I tend to sample from old records in all conditions so what you hear is what you get. I like that anyways, you hear what's in my head, what's in my collection and who doesn't like a crackle here and there.
Some might say it isn't DJ friendly. Do you agree or disagree?
Sure, I can understand that but like I said it's meant for everyone. A DJ can play a bit or the whole side in the club or wherever. Up to them!
If you had to give 'instructions' to the listener with this album, what would you say?
Press play and hear it in full, the package is the point and how I arranged it to be heard. Or whatever, shuffle it around if you want! Take the tracks and make your own mix, have fun.
Tell me you're going to release the full-length versions of these tracks? I hope so.
Yes, we will release a 12-inch of 6 extended full-length versions as well as the rest on DSPs. We do know that some listeners (and DJs) would like em to be longer and while you can make loops (or press repeat) I did spend the time to make these to be played in full, too.
-Jacques Renault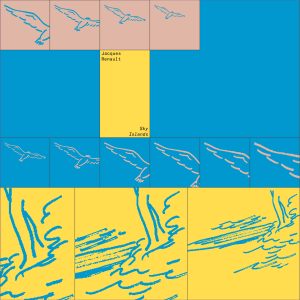 Artist: Jacques Renault
Title: Sky Islands
Label: Let's Play House
Release Date: 2021-07-21
Comments
comments