In this 40th edition of Outsiders Records, we are pleased to present Idan Hana, originally from Tarzana, United States. This young artist brings us his first EP composed of four beautiful productions.
In each of the pieces that make up this release, you can see a base rooted in Deep House, with classic sounds, soft melodies, warm synths and drums with a lot of grooves. The track that begins the EP titled "Torit" introduces us to the world of Idan. Perfect for opening the track, its bass will inevitably get you moving and its wurly retro melodies will take you high.
Artist: Idan Hana
Title: Torit
Label: Outsiders Records
Release Date: 2021-04-09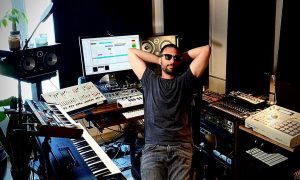 Interview with Idan Hana
You were born and raised in Israel, listed as co-founder of the BPM College in there. What can you tell us about the institute? When did it start? How did it start? What was your role there? BPM College is one of the leading music production institutes globally, with more than 2000 students a year that learn in our physical location or on the online platform. My partner and I opened BPM in 2003 because we wanted to open a house for young kids that were like us. Music is their life, they respect underground music, and like us, didn't have anywhere to learn how to mix, to produce, and share their passion. It started small with ten students and kept growing since then. Today at BPM, we teach more than 60 different courses and programs, including music business, games audio design, singer-songwriter programs, and everything related to music production. We are very connected to our community with today more than 20K alumni and our team. We are working hard to make sure that everyone will feel welcome to be what he wants to be, giving then the knowledge, tools, and support to express themselves. Since I remember myself as a kid, my role was to lead people, manage the process, make sure that everyone's achieving their goals, and set the right path for them and the system. I was always good at reading people and building marketing strategies. So, I become the CEO of our group, and I still am, but today it's global.
When you were in Israel did you DJ? What was the music scene like then? Clubs, radio, music genres? I was Djing for 22 years non-stop every week and was fortunate to be a resident for 12 years in 2 of the biggest clubs in Israel, playing to 1200 clubbers every weekend. Israel is massive on electronic music, especially psytrance, house & techno, with many DJs, clubs, and festivals. Our nation likes to party a lot, and we are doing that in raves.
When did you first get into deep house? Who were the DJs you were listening to that time? I fell in love with the deep house and house in general in 1996 when I went to the first underground club in my hometown. I remember me staring at the DJ booth looking at DJs spinning the vinyl, and at the same time, my brain and heart were blown with the house tracks- every track took me to another place. Since then, everything changed for me, and I become obsessed with house music, working hard to save money for records and listened to music almost all day. My favourite artist were St. Germain, Atjazz, Kevin Yost, Ian Pooley, Dimitri from Paris, and Silicone Soul.
Who would you say are the DJs who inspired the music that you make today? Theo Parrish, Axel Boman, Black Loops, Project Pablo, Chaos In The CBD and Harrison BDP.
How long have you been in LA? What brought you to California? I moved to LA 3 years ago, and it's one of the best times in my life. I felt that I reached my peak in Israel, and I wanted to open my horizons and perspective by living in a big powerful city like LA. I love my life here very much. I have here everything that I love, like the ocean, trees, chill vibes, and nice people.
Have you managed to stay musically motivated this last year? Me and music have been together every day since before I can remember. I don't need motivation for that. It gives me motivation, calm, purpose, and devotion. Without music, this last year could have been very challenging. But for me entering my zen in my studio – I forget everything outside.
If you had to describe your style of sound, what would you say? My music is spiritual development journeying throughout. I'm searching for a state of being equally calm and equally excited; my main influences are 90s deep house. Combining modern and classic sounds, fusing jazz and electronics. I want to have a sound philosophy of uplifting groove and mindfulness calm.
When you produce a new track, do you have a particular production process that you follow? Closing the window, dim the lights, light a candle, opening a beer having a glass of wine. Breathe in and out for a few minutes to wash everything out of the system and relax. Then I start with a written drum groove on my mpc2000. After that will come the pads or chords and then the bass line. Pad or chords will be the root of the story.
How do you know when you have finished a track? When do you stop tweaking? When I feel there is a story from beginning to end without interruption, I feel it's a smooth journey. Then I will send it to 2-3 DJ friends that I trust their music taste and experience.
You are soon to release the Torit EP on Outsiders Records. What can you tell us about the label? I usually work with professionals who find me labels that will be a great match to my tracks. They will send me a few options, and I'll listen to the label releases. I liked all the releases of Outsiders Records. After signing with them, the team are very professional. Everything works "by the book" and they are very kind people. We have become good friends.
We are premiering the title track Torit. Tell us a little about this track? When I wrote the organ chords and melody, I was dancing in my studio and imagining people enjoying listen and dancing to it again in clubs. I thought I'm creating a track from the '90s with a twist.
What's the best bit of musical advice you've been given? You need to love your music. If you don't love it, it's not you that you are trying to express; it's someone you are trying to copy, and don't over-add parts; keep it simple.
What advice would you give to young producers in the studio? Don't overthink, it's in you, and you need to practice more and more to let it go out. Write tracks as much as you can. Finish them. Collaborate with people with more experience and different skills than you. Pick a mentor and a routine and keep the balance with the world outside your studio. Walk outside, feel the sun. Be with your family and friends and learn.
I heard a whisper about a collab with Black Loops. Is there any truth to this? Yes! I've reached Riccardo, aka Black Loops, during the pandemic. I told him that I'm a big fan of his production, and it will be an honour to learn from him. It has developed since then, and we have been working on multiple tracks, some of which we will release together soon. Since then, I've been working with Riccardo, and we can definitely say that he became a good friend and a mentor. We are both crazy about house music, and we found ourselves sometimes dancing on the zoom session and getting excited about the music.
What's coming up next for Idan Hana? I'm always striving for the next goal and to develop. I'm both digging deep in me to bring more of how I am to my music, and I want the person who listens to my music to feel me there. I love to try new gear and techniques all the time and searching for the next "thing" in my process and theme. Since I was a kid, I wanted to be one of the best in my domain. I want to reach more fans, hit the charts, and spread my music as much as possible without compromise, and I will.
-Idan Hana
Comments
comments