Sebastien Chenut aka NEWEM – mostly known as one half of french duo Scratch Massive – steps out with superb new solo album 'Moonpark' on bORDEL Records. We sit down with the production legend to discuss the 11-track release, collaborations with Curses and Prudence and future projects with Scratch Massive.
---
Hi Sebastien, thank you so much for joining us today at Music is 4 Lovers! What have you been up to recently?
Hey, thanks for having me as well! I have been working on several projects recently, getting ready for the release of my debut album "MOONPARK" with my solo project NEWEM, composing and producing soundtracks for documentaries in Australia and France and also making new music with Maud Geffray for the next Scratch Massive album.
You've been a mainstay in the electronic scene over two decades, most notably as one half of the duo Scratch Massive alongside Maud Geffray. How do you work together as a group and have you got anything lined up for the future?
Scratch Massive is a beautiful story that keeps growing which we are so pleased about, and we are even in the studio right now recording the next album "Garden Of Love".
How does the music you create with Maud as part of Scratch Massive differ from your solo projects?
It really differs a lot because it's you and only you with your creation, which can come with moments of doubt which is great but it's not the same when you work with your partner in crime who knows you and can correct or enhance a part of the music instantly. I will say both are nice, but I don't know if I could make music by myself if I didn't have Scratch Massive to be honest.
Your latest solo project is your upcoming 11-track album 'Moonpark' under your NEWEM moniker. What was your inspiration for the LP?
The idea was to explore different worlds of music I'm not used to with Scratch Massive. I'm more used to do with the soundtrack and music score I do for movies and documentaries. I worked a lot in this couple of years on that genre and type of composition which is totally different than making electronic/pop music albums.
In movies, you can develop music landscape and have time to do it, I wanted with NEWEM to use this creation pattern of letting the machines driving some space and landscapes and editing every track more or less as songs but with a total freedom of structures.
On the new album you enlist the beautiful vocals of Curses and Prudence. How important were these contributions to the style and sound of the record? 
As I mentioned earlier I love to work with soulmates and try as many collaborations as possible because it's always surprising and interesting to mix different moods and even a strange combination of styles.
For this album, I reached out to Curses because he has very intense energy, very deep and strong. I had this beat that was very arpeggiated/broken beat, which is nothing at all close to what Curses is used to previously. The results were awesome, a pure mix of our vibes.
Same for Prudence, I love her vocals so much, I always thought during the process of the records that I would love to make a song with her. When the song arrived, I sent it to her and the magic happened again. We also have another song together that will  feature on the "MOONPARK Remixes and Unreleased versions" alongside Dave Aju, Soft Riot, Heidi Hoven and more…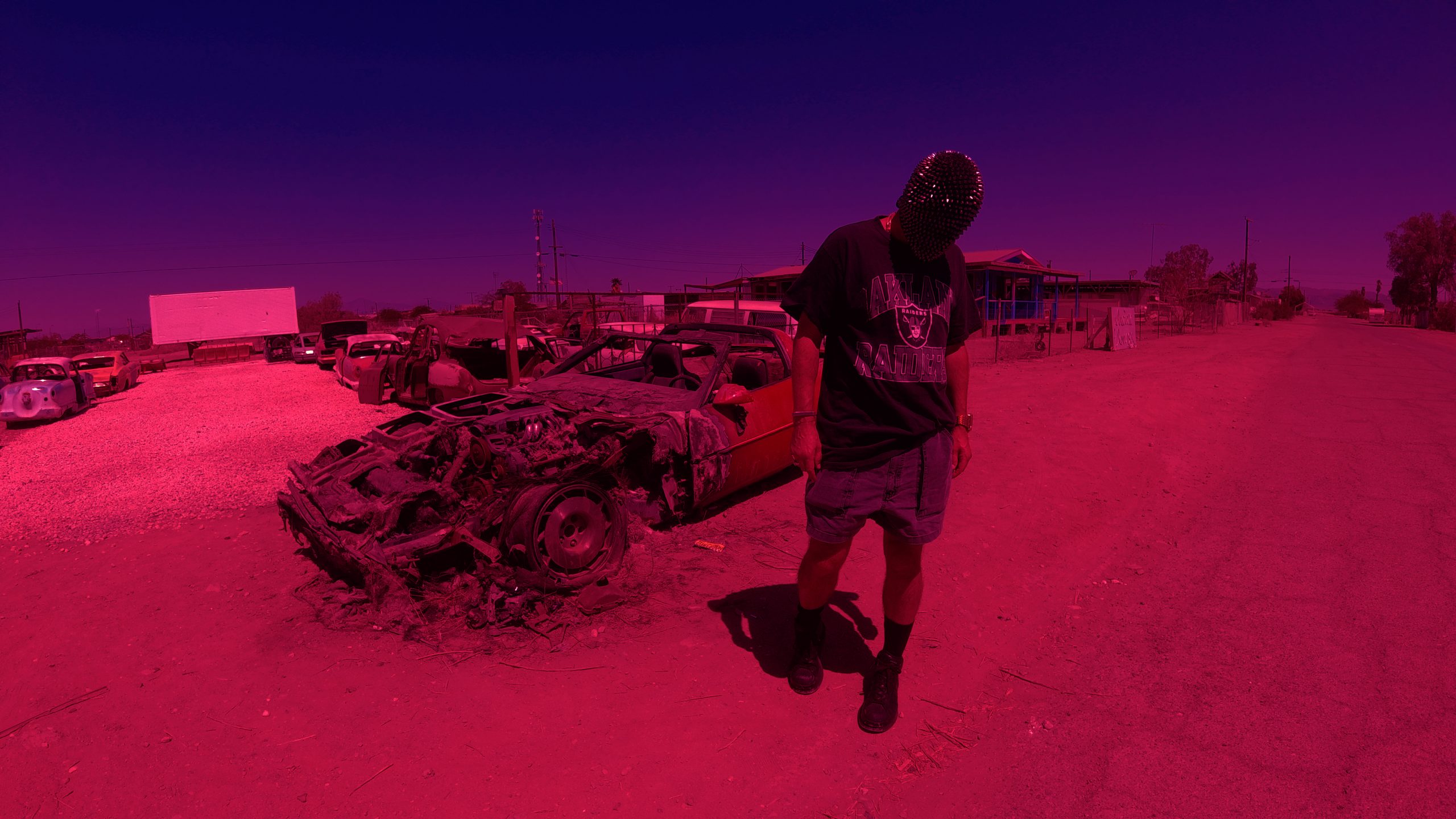 What was your most important tool while producing the album? 
Patience.
Are you planning on touring the album at all?
To be honest I don't know yet. I keep thinking I will wait to do it with the second LP, just to have more materials, but you never know. As a DJ, I will though.
The album artwork is quite abstract and ominous. Could you tell us a bit about the idea behind it?
NEWEM for the moment has a mask, and I'm working around this design; it brings a lot of creativity to have this character masked. There is something about the extinction; the pictures are most of the time in places that have been deserted, with a heavy sky and colours like the sky is on fire.
The album artwork was taken on top of Baram bridge in Los Angeles, a place where the traffic is always heavy. I wanted to drop the character in the middle of this permanent chaos and fire. It was something urgent during the music creation process that I wanted to recreate for its imagery.
Lastly, we know you're originally from France but currently split your time between Europe and LA; what is your favourite thing about living on the sunny west coast?
LA was a gift to me. We built our label bORDEL there and had the chance to work many great releases and artists. Of course, the weather is incredible there and having produced for a long time in basements, I knew I couldn't ever go back to those days. Also, the landscape is incredible there. You have so many choices all around yourself in just one state alone (desert, mega city, beaches, forrest etc.); this really helped over the years to feel this spacey vibe that you get there. It did change a lot of my way of composing for sure.
---
NEWEM 'Moonpark' is out on 28th October on bORDEL Records
---
Follow NEWEM on
Comments
comments